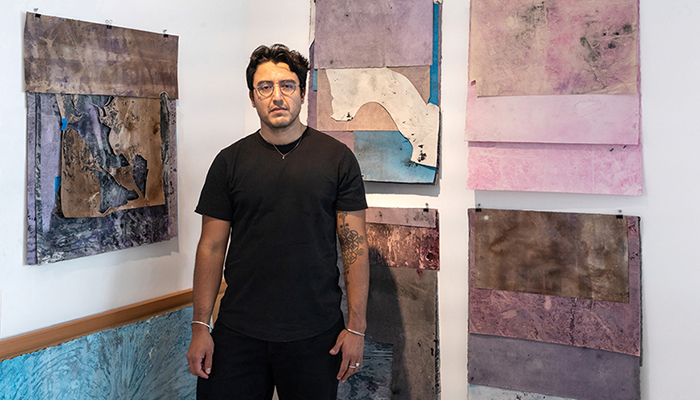 Unruly Bodies: Artist in Residence Felipe Baeza in Conversation with Laura Gutiérrez
GETTY CENTER
Museum Lecture Hall
This is a past event
To attend in person, click "Get Tickets."
To watch online, register via Zoom.

Complimentary parking will be available to all registered guests.

Join us for a conversation between Getty Artist in Residence Felipe Baeza and Professor Laura Gutiérrez. While at the Getty Research Institute, Baeza and Gutiérrez discovered a shared migration story, both having come from Mexico, growing up in Chicago, and then leaving again to pursue their dreams. Their discussion will explore the ways that their immigration experiences shaped their creative and scholarly processes, imagination as a mode of survival, and the concept of embodiment in performance and figurative art making.

Following the conversation, attendees are invited to a reception with the speakers.

Felipe Baeza is a visual artist who lives and works in Brooklyn. His recent exhibitions include The Milk of Dreams, 59th Venice Biennale, Venice (2022); Yesterday We Said Tomorrow, Prospect 5, New Orleans (2021); and Through the Flesh to Elsewhere, the Mistake Room, Los Angeles (2020). Baeza received his BFA from the Cooper Union and MFA from Yale.

Laura G. Gutiérrez is associate professor of Latinx studies at the University of Texas at Austin. Her research interests include performance and visual culture. She was a Getty Scholar in the fall of 2022 and is currently completing a monograph entitled Binding Intimacies in Contemporary Queer Latinx Performance and Visual Art.

Learn more about the Getty Research Institute's Scholars Program and Artist in Residence.

The conversation will be available on the Getty Research Institute YouTube channel following the event.

Visit the Getty Research Institute's Exhibitions and Events page for more free programs.
Need help?
Contact us!
9 am–5 pm,7 days a week
(310) 440-7300