Board of Trustees
The board of trustees is the governing body of The J. Paul Getty Trust. The trustees, as a board or through board committees, set policies relating to spending, management, governance, professional standards, investment, and grant making. They also oversee the internal and external auditors, select the president and officers, and review the performance and set the compensation of all the officers. Trustees are elected for four-year terms, and may serve no more than three terms.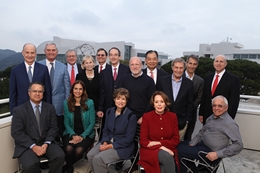 As of July 1, 2015, the trustees are:
JAMES CUNO
James Cuno joined the Trust as president and CEO in August 2011. A national and international museum leader and scholar, Cuno was president and Eloise W. Martin Director of the Art Institute of Chicago before joining the Getty. Prior to directing the Art Institute of Chicago, he was the director and professor of the Courtauld Institute of Art, University of London, from 2003-2004; the Elizabeth and John Moors Cabot Director of the Harvard University Art Museums and professor of the history of art and architecture at Harvard from 1991 to 2003; director of the Hood Museum of Art, Dartmouth College, from 1989-1991; director of the Grunwald Center for the Graphic Arts, UCLA, from 1986-1989; and assistant professor of art, Vassar College, from 1983-1986. Cuno received his A.M. and Ph.D. in the History of Art from Harvard in 1980 and 1985, respectively; an M.A. in the History of Art from the University of Oregon in 1978; and a B.A. in History from Willamette University in 1973.
FRANCES DALY FERGUSSON
Frances Daly Fergusson was elected the ninth president of Vassar College in 1986 and retired from that position as president emeritus in 2006. Dr. Fergusson is a graduate of Wellesley College with special honors in art history, and earned her masters and doctoral degrees in art history at Harvard University, where she served most recently as president of the Harvard Board of Overseers. Among many other responsibilities, she is a member of the board of trustees for the Foundation for Contemporary Arts, The School of American Ballet, Second Stage Theatre and the National Humanities Center. She is on the boards of directors of Mattel and Pfizer. Dr. Fergusson is a fellow of the American Academy of Arts and Sciences.
MARIA D. HUMMER-TUTTLE
Maria Hummer-Tuttle joined the board in April 2009 and was elected Chair in June 2015. She practiced law for approximately 20 years and was a partner and chair of the management committee of Manatt, Phelps and Phillips in Los Angeles. Hummer-Tuttle has served on a number of boards including The Music Center of Los Angeles County, The Armand Hammer Museum of Art and Cultural Center, Los Angeles World Affairs Council, Children's Institute Inc., Pitzer College, Mount St. Mary's College and Scripps College. She recently co-authored the book Winfield House, published by Thames & Hudson, and serves on the board of the Foundation for Art and Preservation in Embassies. She received her B.A. from Scripps College and her J.D. from UCLA School of Law.
JOANNE CORDAY KOZBERG
Joanne Corday Kozberg joined the board in June 2005. Since 2003 Ms. Kozberg has been the Principal in charge of the Los Angeles office of public affairs firm California Strategies, LLC. Kozberg serves on the board of the California Community Foundation and is a Regent Emeritus of the University of California, completing a 12-year term in 2010. From 1999 to 2003 Kozberg was president and chief operating officer of the Music Center of Los Angeles County. From 1993 to 1998 she was California's Secretary of State and Consumer Services under Governor Pete Wilson. She was chair of the California Arts Council from 1988 to 1991 and served as its executive director from 1991 until 1993. Kozberg holds a B.A. in history from the University of California, Berkeley, and an M.A. in public policy from Occidental College.
PAUL LECLERC
Paul LeClerc was appointed on July 1, 2012 as Director of the Columbia
Global Center | Europe, at Reid Hall in Paris. His previous positions include: President and CEO, The New York Public Library (1993-2011); President, CEO, and Professor of French, Hunter College CUNY (1988-93); Provost, Vice President for Academic Affairs, and Professor of French, Baruch College CUNY (1984-88); University Dean for Academic Affairs, CUNY (1979-84). Prior to these administrative positions, he was successively Instructor, Assistant Professor, and Associate Professor of French with tenure at Union College (1966-79), where he also served as Chair of the Department of Modern Languages and Literatures and Chair of the Humanities Division. LeClerc was an undergraduate at Holy Cross College and earned an M.A. and Ph.D. in French literature at Columbia University. His academic specialties are Voltaire and the French Enlightenment and he is the author, editor, and co-editor of five scholarly volumes on these subjects. He serves on the Boards of the American Academy in Rome, the Andrew W. Mellon Foundation, and the Voltaire Foundation.
DAVID LEE
David L. Lee is a co-founder and managing general partner of Clarity Partners, a private equity firm that invests in communications, media and related technology companies. Dr. Lee started his professional career with Arthur Andersen & Co. in Los Angeles in 1975. In the 80s and 90s, he held executive positions at Comsat, TRW and Pacific Capital Group. In 1997 he co-founded the telecommunications firm Global Crossing and served as its president and chief operating officer until early 2000 when he left to launch Clarity Partners. In 2007, he also co-founded Clarity China which focuses on private equity investments in Greater China. Dr. Lee is a graduate of McGill University and holds a doctorate in Physics with a minor in Economics from the California Institute of Technology. He chairs the Board of Overseers of the Keck School of Medicine at USC, is a Trustee of Caltech and USC and a director of Trust Company of the West. The Lee Family Foundation supports higher education, and has provided grants to establish centers for advanced networking at Caltech and the National Chiao Tung University in Taiwan.
MICHAEL LYNTON
Michael Lynton joined the board on July 1, 2014. He is currently CEO of Sony Entertainment and oversees the company's global entertainment businesses, including Sony Music Entertainment, Sony/ATV Music Publishing and Sony Pictures Entertainment. Prior to joining Sony Pictures, Mr. Lynton served as CEO of AOL Europe, President of AOL International, and President of Time Warner International. From 1996 to 2000, Mr. Lynton served as Chairman and CEO of Pearson plc's Penguin Group, where he oversaw the acquisition of Putnam, Inc. and extended the Penguin brand to music and the Internet. He joined The Walt Disney Company in 1987 and started Disney Publishing, serving as its President. From 1992 to 1996, he served as President of Disney's Hollywood Pictures. He holds a Bachelor of Arts in history and literature from Harvard College and a Masters of Business Administration from Harvard Business School, and in May 2012, was elected to the Harvard Board of Overseers. In September 2014 he was appointed to the Smithsonian's Board of Regents. Mr. Lynton's board service includes the Los Angeles County Museum of Art and the Rand Corporation.
THELMA MELÉNDEZ DE SANTA ANA
Thelma Meléndez de Santa Ana joined the board on July 1, 2012. Dr. Meléndez serves as Chief Executive Officer, Office of Educational Services for the Los Angeles Unified School District (LAUSD). Prior to joining the LAUSD as a senior administrator for Beyond the Bell, in March 2014, Dr. Meléndez served as education advisor to Los Angeles Mayor Eric Garcetti. Dr. Meléndez was superintendent of schools for the Santa Ana Unified School District, the largest school district in Orange County, worked at the U.S. Department of Education, where she helped to develop the Blueprint for Reform, and as Assistant Secretary for Elementary and Secondary Education, she led the office as it administered grant funding through the American Recovery and Reinvestment Act of 2009. She earned a BA cum laude in sociology from UCLA, a Ph.D from USC's Rossier School of Education, and an Honorary Doctorate from Pepperdine University's Graduate School of Education and Psychology. She is married to Otto Santa Ana, a professor in the Department of Chicano Studies at UCLA.
STEWART A. RESNICK
Stewart A. Resnick joined the board in September 2005. He is chairman and owner of Roll Global, a Los Angeles-based holding company, and has developed and owns a number of companies, including Paramount Agribusiness, POM Wonderful, Teleflora, FIJI Water, and Suterra. Resnick is a member of the boards of UCLA Medical Sciences, Bard College in New York, and Conservation International and is a trustee of the California Institute of Technology. Resnick and his wife, Lynda, have been featured in Art & Antiques magazine as two of the nation's top art collectors. Major galleries have been dedicated in the Resnick's name at the Los Angeles County Museum of Art and the Philadelphia Museum of Art. Resnick holds a B.S. in business administration from the University of California, Los Angeles, and a J.D. from UCLA School of Law.
NEIL L. RUDENSTINE
Neil L. Rudenstine joined the board in 2007 and is the current Vice Chair. Dr. Rudenstine currently serves as chair of ARTstor, a nonprofit organization created by the A. W. Mellon Foundation that develops, maintains, and distributes digital resources for the study of art, architecture, design, and related fields in the Humanities. Dr. Rudenstine was president of Harvard University from 1991 until he retired in 2001. He received his undergraduate degree at Princeton University, a B.A and an M.A. from Oxford University, where he was a Rhodes Scholar, and a Ph.D. in English from Harvard University. He was a member of the Harvard English Department prior to becoming a professor and senior administrator at Princeton University. He is an honorary fellow of New College, Oxford University, a member of the American Philosophical Society, the Committee for Economic Development, and serves on the Council on Foreign Relations. He is a published author, and among many other accomplishments is a member of the American Academy of Arts and Sciences, and a trustee of the Barnes Foundation, the Courtauld Institute of Art (London), the New York Public Library, and chairs the board of the Rockefeller Archive Center.
WILLIAM E.B. SIART
Bill Siart is the chairman of the board of ExED (Excellent Education Development), a non-profit corporation which he founded in 1997 that develops and manages charter public schools. He serves as a trustee and chairman of the finance committee of the University of Southern California, and is a member of the board of directors of Camino Nuevo Charter Academy. Mr. Siart is also on the board of the Catholic Education Foundation. He is the chairman and a director of Western Asset Funds, Inc. Mr. Siart is the former chairman and chief executive officer of First Interstate Bancorp, a $60 billion banking company with offices in 13 western states and more than 40,000 employees. A native of Los Angeles, he earned a BS degree in economics from Santa Clara University, and an MBA in finance from the University of California at Berkeley. Mr. Siart is active in Los Angeles and nationally in K-12 education reform.
MARK S. SIEGEL
Mark S. Siegel joined the board in November 2005. He served as Chair from 2010 to June 2015. He is the founder and president of ReMY Investors and Consultants, Inc., and chairman of the board of directors of Patterson-UTI Energy, Inc., an energy services company. Previously, he was president of Blockbuster Music and executive vice president and managing director of Shamrock Holdings, Inc., and Trefoil Capital. Siegel also practiced law for 12 years in the entertainment and media industries. Most recently, he was chairman of the board of trustees at Cedars-Sinai Medical Center from 2007 through 2010, and continues to serve as a member of the board and its governance committees. He has also served as a member of the President's Advisory Committee on the Arts and a Trustee of MOCA (The Museum of Contemporary Art, Los Angeles). A native of Los Angeles, Siegel earned an A.B. in philosophy from Colgate University and a J.D. (Order of the Coif) from the University of California, Berkeley.
RONALD P. SPOGLI
Ronald P. Spogli joined the board in July 2010. He is CEO of Freeman Spogli & Co., Incorporated, one of the leading middle market private equity investors in the United States. The former United States Ambassador to the Italian Republic and to the Republic of San Marino, Spogli received the 2008 Sue M. Cobb Award for Exemplary Diplomatic Service. Currently, he serves on the boards of Trustees of Stanford University and Public Storage. He became a member of the Investment Committee at the California Institute of Technology in July 2011. In addition, Ambassador Spogli also serves as the Chairman of the Advisory Board of Innogest, a venture capital fund based in Turin, Italy. With his business partner, Bradford M. Freeman, he endowed the Freeman Spogli Institute for International Studies, Stanford's primary center for research on international issues. Ambassador Spogli received an A.B. in history from Stanford and an MBA at Harvard.
JOHN J. STUDZINSKI
John J. Studzinski is Vice Chairman, Investor Relations and Business Development and a Senior Managing Director of Blackstone. A graduate of Bowdoin College with an MBA from the University of Chicago, he has spent much of his career in London, where he has received both the Prince of Wales Medal for Arts Philanthropy and, for his work with the homeless, the Prince of Wales Ambassador Award. He is Founder and Chairman of the UK-based Genesis Foundation, which nurtures exceptional young talent in the fields of theatre, music and visual arts. Among his other philanthropic roles are Vice Chair of Human Rights Watch, President of the American Friends of The Royal Foundation of The Duke and Duchess of Cambridge and Prince Harry, and Chairman of London's Benjamin Franklin House Museum. He also sits on the board of Bowdoin College.
Mr. Studzinski holds the Papal honors of Knight of the Order of St. Gregory and Knight Commander of Saint Sylvester and in 2008 was named Commander of the British Empire (CBE) for services to the Arts and Charity.
PETER J. TAYLOR
Peter J. Taylor joined the board in November 2005, and currently serves as chair of the Audit Committee for the Getty. He is the president of the ECMC Foundation, a grant-making philanthropy organization focused on improving educational attainment among young people from low-income backgrounds. He previously served as executive vice president and chief financial officer of the University of California system from 2009 through April 2014. He spent most of his career working as a managing director of public finance at Barclays Capital. Previously, Taylor was appointed by Governor Arnold Schwarzenegger to the California Performance Review Commission and also served on the California Student Aid Commission as an appointee of Governor Gray Davis. He was previously president of the UCLA Alumni Association Board of Directors, and past chair of the board of directors of the UCLA Foundation and the James Irvine Foundation. He currently serves on the boards of Edison International and the Kaiser Family Foundation.
JAY S. WINTROB
Jay S. Wintrob joined the board in January 2004 and served as vice chair from 2006–2010. He is Chief Executive Officer of Oaktree Capital Management and has served as a member of their Board of Directors since 2011. Prior to joining Oaktree in 2014, he was President and Chief Executive Officer of AIG Life and Retirement, a division of American International Group, Inc. In 1987 Mr. Wintrob joined SunAmerica Inc., which was later acquired by AIG, where he most recently served as Vice Chairman. From 1994 through 2000, he also served as President of SunAmerica Investments, Inc., overseeing the company's invested asset portfolio. Mr. Wintrob began his career with the law firm of O'Melveny & Myers. He received his B.A. from the University of California, Berkeley as well as a J.D. from the university's Boalt Hall School of Law. Mr. Wintrob is a board member of several non-profit organizations, including The Broad Foundations and the Skirball Cultural Center.
TRUSTEES EMERITI
Dates in parentheses indicate periods of service.
Lewis W. Bernard (1998–2004)
John H. Biggs, Chair Emeritus (1999–2006)
Louise H. Bryson, Chair Emerita (1998–2010)
John F. Cooke ( 1995–2000)
Ramon C. Cortines (1996–2008)
Lloyd E. Cotsen (2002–2006)
David I. Fisher ( 1995–1999)
David Gardner, Chair Emeritus (1992–2004)
Gordon P. Getty (1955–1966; 1973–1998)
Vartan Gregorian (1988–2000)
Agnes Gund (1994–2006)
Helene L. Kaplan (1992–2004)
Herbert L. Lucas, Jr. (1988–1999)
Luis G. Nogales (2000–2012)
Rocco C. Siciliano (1982–1995)
J. Patrick Whaley (1977–1998)
Harold M. Williams, President Emeritus (1981–1998)
Blenda J. Wilson (1993–2005)