From elegant dining in the Restaurant, to casual meals, coffee, and snacks, menus are developed with locally sourced, healthy ingredients and served with incredible views.
The Restaurant
Located in the Restaurant/Cafe building, the Restaurant offers full service in an elegant setting with views of the Santa Monica Mountains. Menus change seasonally.
Reservations are recommended. Limited same-day reservations may be available at the door or at the Museum Information Desk. Call (310) 440-6810 or click the button below to make reservations: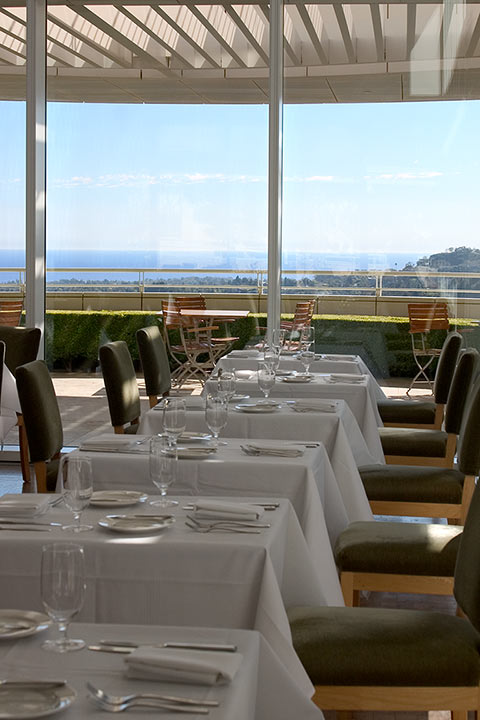 Hours
Lunch
Tuesday–Saturday 11:30 a.m.–2:30 p.m.
Dinner
Saturday 5:00–9:00 p.m.
Sunday Brunch
Sunday 11:00 a.m.–3:00 p.m. (Brunch menu)
Closed Mondays
Sample Menus
To make restaurant reservations for large parties of up to 25, call the restaurant at (310) 440-6810.
Cafe
The self-service Cafe on the lower level of the Restaurant/Cafe building and has indoor and outdoor dining areas.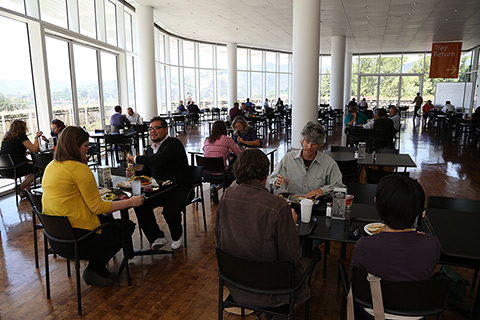 The extensive menu includes sandwiches, soups, salads, pizza, tacos, burritos, and grilled items. Wine and beer are also available.
Sample Lunch Menu (PDF, 1p., 23 KB)
Hours
Tuesday–Friday 11:30 a.m.–3:00 p.m.
Saturday 11:30 a.m.–6:00 p.m.
Sunday 11:30–3:30 p.m.
Closed Monday
Garden Terrace Cafe
This smaller cafe offers coffee, lunch, and snacks in an outdoor setting overlooking the Central Garden.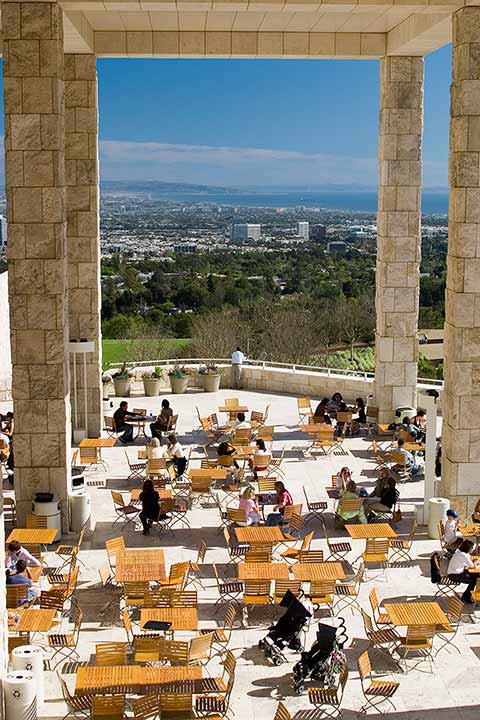 Hours
The Garden Terrace Cafe is open for lunch every day in the summers, between June and September. It is generally open only on Saturday the rest of the year.
Saturday 12:00–5:00 p.m.
Closed Monday–Friday and Sunday
Closed in case of rain
Coffee Carts
Two coffee carts—one in the Museum Courtyard and one on the Plaza (up the stairs and to the right from the Tram Arrival Plaza)—offer coffee, hot tea, espresso drinks, bottled beverages, and baked goods, as well as hot and cold food options.
Coffee carts are open when the Getty Center opens in the morning. At least one cart generally remains open until close to the Getty Center closing time. Closed in case of rain. The Cafe remains open until 5:00 p.m. in case of rain.
Museum Courtyard Coffee Cart Hours
Tuesday–Friday and Sunday 10:00 a.m.–5:00 p.m.
Saturday 10:00 a.m.–8:30 p.m.
Closed Monday
Plaza Coffee Cart Hours
Saturday 9:30–5:00 p.m.
Closed Monday–Friday and Sunday
Picnics
Gourmet boxed lunches are available for pick-up on the Plaza Level near the Restaurant. Order online or call (310) 440-6213.
Bring your own picnic, or take your ordered boxed lunch and grab-and-go items to have a picnic in the Central Garden, or at tables and chairs in the South Pavilion Terrace or Museum Courtyard.
A picnic area located at the Lower Tram Station (T1) is open until 30 minutes before the Getty Center closes.
Pay Once, Park Twice

Get same-day parking at both the Getty Center and the Getty Villa for one $15 fee.