Teens

Statement of Intent
Our teen programs at the Getty Museum strive to celebrate the perspectives, voices, ideas, and experiences of young people, and to inspire them to actively contribute as creative thinkers. Through a spectrum of project-based, visual arts programming we work in community and in collaboration with one another. Our mission is to create spaces and programs for teen representation by committing to work and learn with BIPOC audiences who are underrepresented by and within arts institutions.
We do this by:
Honoring the value and importance of art and interpretations made by young people/teens
Addressing historical and contemporary occurrences of institutional exclusion by committing to seek opportunities for intentional inclusion
Engaging with neighborhoods across Los Angeles with a particular focus on those that have been identified as having little to no arts programming
Building connections with artists and arts professionals who activate the museum and its collections, from antiquity to contemporary art
Applying a critical and analytical lens to the collection, to explore all that it is and all that it isn't
Being responsive to potential barriers to participation by providing transportation, meals, and paid opportunities to ensure that young people who are interested can participate
Teen Programs
Through intensive programs and internships, onsite events across our two locations, digital apps, and more, there are a variety of ways to explore our collections, inspire personal creativity, and help teens connect with each other.
Getty Unshuttered
Getty Unshuttered
partnering with
Amplifier
to launch the second annual Open Call for teen photographers, ages 13–19. As we continue to navigate the ongoing challenges of this pandemic, we invite teens to share photographs as they reflect on and develop new ways of connecting framed by our 2022 theme,
"Reconnecting with _"
. What or who are you reconnecting with?
Teen artists, take and submit original portraits (both traditional or nontraditional) capturing who or what you are reconnecting with right now — be it with yourself, community, nature, values, creativity, or other themes. Countless possibilities await you. Win a chance to have your photo included in a Getty Museum exhibition opening to the public in June, 2022!
The Photography Open Call is now closed for submissions. Find the collection of submitted works
here
.
Stay connected and follow us on Instagram
@GettyUnshuttered
.
Questions? Please email us at
gettyteens@getty.edu
.
Student Gallery Guides
This summer, our Getty Student Gallery Guides internship program is back in person and offering gallery experiences for ages K-12. If you are a school or group that is interested in taking a tour with our student interns, please sign up
here
.
The Student Gallery Guides application period is now closed.
Questions? Please email us at
gettyteens@getty.edu
.
Teen Lab
The Teen Lab application period is now closed.
Questions? Please email us at
gettyteens@getty.edu
.
Latin Academy (Academia Aestiva)
The Latin Academy is now fully enrolled for summer 2022, and the application period is closed. All applicants have been notified about the status of their application. If you have questions please contact Shelby Brown at
sbrown@getty.edu
.
---

Getty Unshuttered
Unshuttered is many things: an app, a photography intensive program, and a multitude of other upcoming programs at Getty and beyond. The
Getty Unshuttered app
is a free photo sharing platform that provides a positive community for teen artists to raise their voices for social good. Get inspired. Build and share your own portfolio. Like and follow other photographers to help them grow, too. The Unshuttered team at the Getty Museum is always on the lookout for great work and new artists to celebrate. Your work could be a "Pick of the Day" or you could wear our most exclusive badge, "Getty Artist." We can't wait to see what you create.
Download the app
and join our community.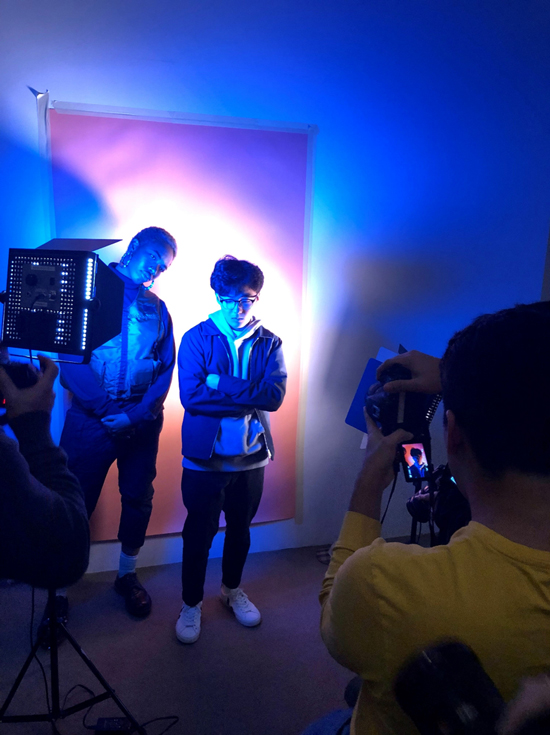 Unshuttered Teaching Artist: SHAN Wallace and Unshuttered artist: Adam C. (left to right)

Student Gallery Guides
Student Gallery Guides is a paid summer internship opportunity at the Getty Center for teens interested in new experiences and access to museum spaces and art professionals. Interns will learn strategies for discussing and analyzing artwork to lead guided gallery experiences with the Getty Center's collection for visitors of all ages. This is a great opportunity for teens who are interested in art, working in community with teen peers, building public speaking and group management skills, and exploring education opportunities. Transportation to and from the Getty Center, as well as a stipend, is provided to each intern on the final day of the internship, based on successful completion of the program.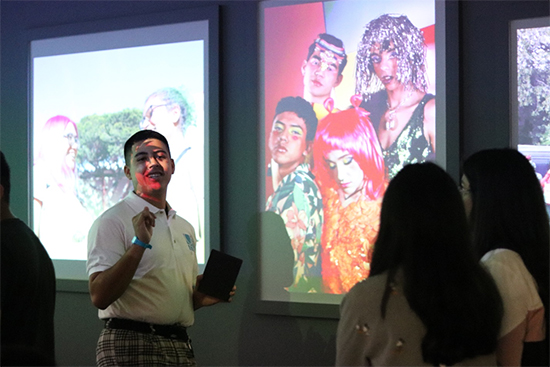 Student Gallery Guide: Androgony J. (left)

Teen Lab
Getty Teen Lab is an eight-week paid summer internship for high school students from the Boyle Heights community to explore the role they can play as active producers of STEAM (science, technology, engineering, arts, and math) educational content for the museum. Getty Teen Lab participants explore the intersections of art and science in the ancient Greek and Roman world, through deep explorations of objects in the Getty Villa collection and through personal art making. The Getty Teen Lab Program supports students in archeology, conservation, and arts integration projects created for K-12 student audiences. Transportation to and from the Getty Villa, as well as a stipend, is provided to each intern on the final day of the internship, based on the successful completion of the program.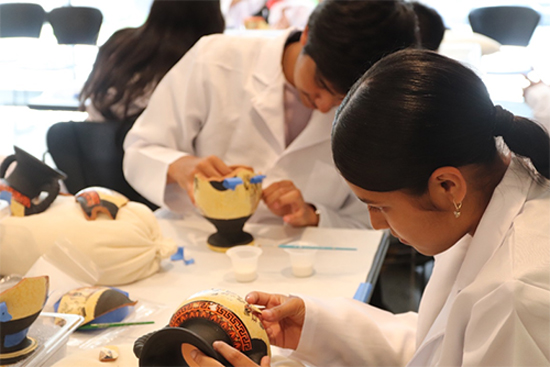 Teen Lab 3.0 Interns: Hector R. and Jocelyn V. (left to right)

Latin Academy (Academia Aestiva)
The Summer Latin Academy (
Academia Aestiva
) at the Getty Villa offers high school students who have taken the equivalent of a full year of high-school Latin an opportunity to immerse themselves in the language and culture of the ancient Romans. This week-long program combines classroom instruction in spoken Latin in the morning with activity-based exploration of the Getty Villa site and antiquities collection in the afternoon. Led by local teachers affiliated with the
North American Institute for Living Latin Studies (SALVI)
in collaboration with Getty Villa educators and curators, the program offers a chance to discover the benefits of spoken Latin in the unique environment of a museum modeled on an ancient Roman luxury villa. Our theme changes yearly and is sometimes influenced by our summer exhibition. The week generally ends with a visit to the Getty Center to view relevant Medieval manuscripts in Latin.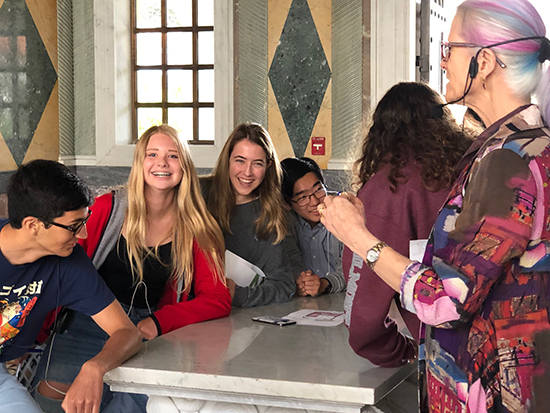 Students reenact the high-status couch positions at a Roman dinner party.