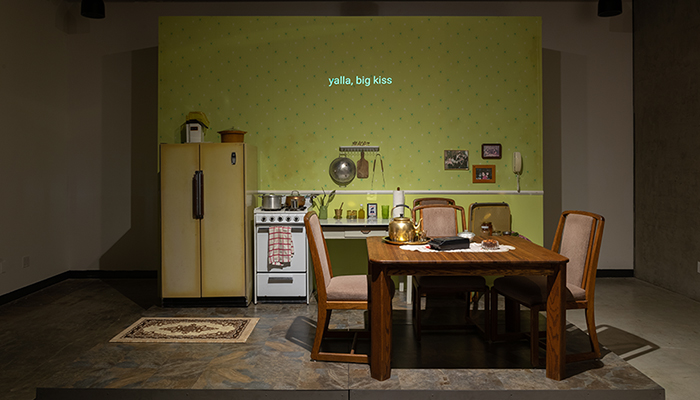 the sound of your voice is home: Yasmine Nasser Diaz in Conversation with Ikram Lakhdhar
GETTY CENTER
Museum Lecture Hall
This is a past event
Yasmine Nasser Diaz builds an affective world by and for the South West Asian and North African diaspora and beyond. In her multimedia installation the sound of your voice is home (TSOYVIH), she turns oral communications between distant loved ones into an immersive soundscape. Cassette tapes sent between her family in Yemen and Chicago inspired this nostalgic installation of ritualized correspondence to document the evolving ways diasporic communities maintain connectivity and share memories, shedding light on how art and stories migrate through cultures, time, and space.

Following a video screening of TSOYVIH, Diaz will be joined in conversation with curator Ikram Lakhdhar to explore the artist's role as an archivist of the immigrant experience, preserving intergenerational exchanges through collecting and storytelling.

After the talk and throughout the afternoon, attendees are invited to the Getty Research Institute for a reception and to record their own traditions of familial communication, contributing to a growing collection of diaspora soundbites.

Yasmine Nasser Diaz is a visual artist whose work explores nuanced narratives of third-culture identity. Her multimedia practice spans collage, fiber etching, immersive installation, and video. Diaz's works are included in the collections of the Los Angeles County Museum of Art, the Arab American National Museum, and the University of California, Los Angeles.

Ikram Lakhdhar is a Tunisian-born, LA-based curator and writer whose practice seeks to decolonize the canon of art history and expand transnational narratives. She is the curator of the exhibition "Water/ماء: Trespassing Liquid Highways" at Gallery 102 and is the co-founding editor of Dirt. She has published essays with The Chart, Common Field, Arts.Black, and BmoreArt.

The conversation will be available on the Getty Research Institute YouTube channel following the event.

Visit the Getty Research Institute's Exhibitions and Events page for more free programs.
Need help?
Contact us!
9 am–5 pm,7 days a week
(310) 440-7300