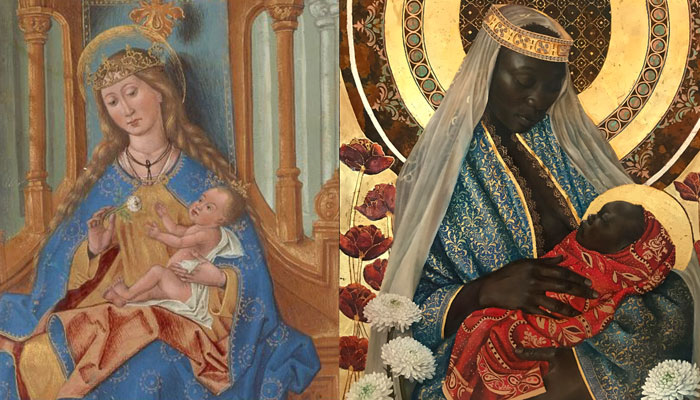 Modernizing Mary: Contemporary Artists Reinterpret an Icon
GETTY CENTER
The Getty Center and Online
This is a past event


The depiction of the Virgin Mary in visual art is a tradition stretching back almost 2,000 years. Her popularity over the centuries is well represented by many artworks in the Getty Museum, but Mary also continues to inspire contemporary artists. In this conversation, participants draw out the enduring appeal of this figure who serves as both an icon of compassionate devotion and cultural celebration, or an emblem of religious tradition and oppression to critique. Exploring why contemporary artists remain attracted to the many symbolisms of the Virgin Mary helps us understand how a visual theme that originated in the Middle Ages still has resonance today. Complements the exhibition Visualizing the Virgin Mary.

SPEAKERS
Alma Lopez is a visual artist. Her work has been exhibited in over 100 solo and group exhibitions internationally. In 2011, the University of Texas Press published her book Our Lady of Controversy: Alma López's "Irreverent Apparition," co-edited with Alicia Gaspar de Alba. Currently, Lopez is a lecturer in the Cesar E. Chavez Department of Chicana/o and Central American Studies and LGBTQ Studies Program at UCLA. She teaches courses on art censorship, queer art, chicanx/latinx art, public art, and digital art. Lopez's most recent photography project is L.A. Foto Truck.

Mark Mahoney is an American tattoo artist, considered the "founding father" of black and grey art with a single needle. Many in the business consider Mahoney a living legend. He owns and is the principal artist at the world renowed Shamrock Social Club on Sunset Boulevard in Hollywood. Mahoney started his work as a tattoo artist in Boston in 1977 (when tattooing there was illegal), where he was in the midst of the 1970s punk scene. He has stayed relevant and influential in the tattoo world ever since. He was a pivotal force during the 1980s black-and-grey movement, and has tattooed some of Hollywood's biggest names.

Patrick Polk (moderator) is curator of Caribbean and Latin American popular arts at UCLA's Fowler Museum and a lecturer in the UCLA Department of World Arts and Cultures/Dance. As curator, Polk is an expert in arts from Caribbean and Latin American cultures, particularly folk arts. Polk's interests center around religions and ritual traditions of the African diaspora and also popular religion and religious art in the United States. Much of his work studies the intersection of how Europe, Native America, Latin America, and Africa collide in Los Angeles.

Harmonia Rosales's main artistic concern has focused on Black female empowerment in Western culture, depicting and honoring the African diaspora. Growing up, the impeccable skill and composition of the Renaissance masters fascinated her but the depiction of white hierarchy and the idealization of subordinate women, often falling under Eurocentric notions of beauty, dissuaded her passion. Her message is not to create an ideal or simply to copy, but rather to create a sense of harmony between the struggling dichotomies. Rosales draws on the energy of living life as a woman of color and society's objectification of that identity. The primary purpose of her art is and will always be to encourage sympathy, empathy, and empowerment.
Need help?
Contact us!
9 am–5 pm,7 days a week
(310) 440-7300