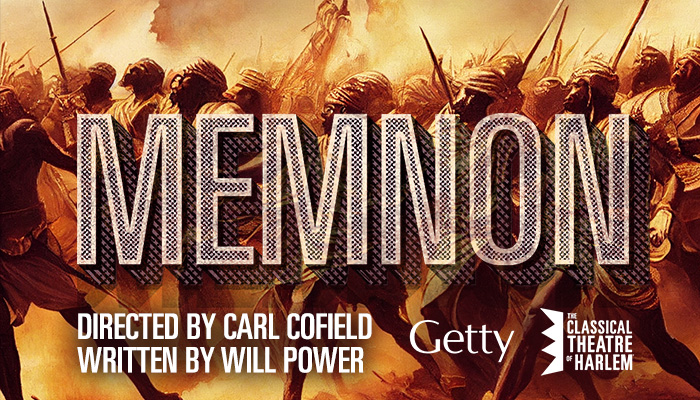 Memnon Read by the Classical Theatre of Harlem
ONLINE ONLY
This is a past event
The Classical Theatre of Harlem presents an online reading of Memnon. In its darkest hour, the besieged city of Troy calls on Memnon, a powerful Ethiopian king, to fight with them in hopes of repelling the Greeks. This Homeric episode, once a staple of the ancient Greek and Roman epic tradition, had been forgotten—until now. The story is an ancient artifact, a treasure that fits into our current global reckoning in relation to art, race, and equity, and is sure to become an essential part of the conversation about how myths shape our collective narratives. Written by Will Power and directed by Carl Cofield. Running time approximately one hour.

Complements the exhibition Nubia: Jewels of Ancient Sudan From the Museum of Fine Arts, Boston.

The Classical Theatre of Harlem (CTH) provides theatrical productions and theatre-based educational and literary programs at little or no cost to underserved communities in Harlem and beyond. Since its founding in 1999, CTH has prioritized opportunity and access in the theatrical arts: onstage, backstage, in its administration, board, and audience. By leading with diversity, equity and inclusion as its core values, CTH attracts one of the most racially, generationally and socio-economically diverse theatre audiences in New York City.
Need help?
Contact us!
9 am–5 pm,7 days a week
(310) 440-7300