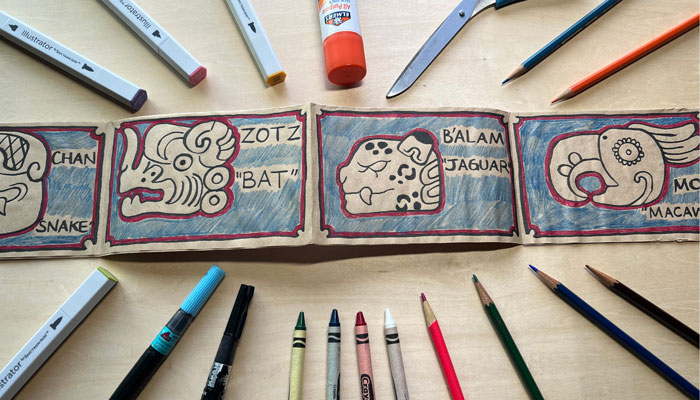 Códice Maya de México: Accordion Book Workshop | Códice Maya de México: taller de libro acordeón
GETTY CENTER
Museum Courtyard
This is a past event
Celebrate the oldest book of the Americas by creating your own accordion-style manuscript inspired by the Códice Maya de México. Learn more about Indigenous bookmaking materials and the zigzag folding structure unique to ancient Mesoamerican books. Then explore Maya hieroglyphs, deities, and number systems that illustrate the movements of the planet Venus.

Led by artist Ernesto Vazquez, this free, drop-in workshop is produced in partnership with Self Help Graphics & Art and complements the Códice Maya de México exhibition.

About Self Help Graphics & Art:
Founded in 1970 in the heart of East Los Angeles, Self Help Graphics & Art is dedicated to the production, interpretation, and distribution of prints and other art media by Chicana/o and Latina/o artists. Our multidisciplinary and intergenerational programs promote artistic excellence and empower our community by providing access to space, tools, training, and capital.

About the Artist:
Ernesto Vazquez is an Indigenous Xicano living on Tongva lands. He is a mixed-media artist, illustrator, and printmaker who utilizes linoleum block printing, woodblock printing, and screen-printing to create work with themes ranging from political to mythic. His work has been exhibited internationally, yet he prefers to show it in galleries within the local communities of Los Angeles. Ernesto's ties to family, street art, social justice, community empowerment issues, grassroots organizing and his upbringing in East Los Angeles are core to his process and influence.

Sundays November 6, November 13, and December 4.


Celebre el libro más antiguo del continente americano al crear su propio manuscrito estilo acordeón, inspirado en el Códice Maya de México. Conozca más sobre los materiales que los indígenas usaban para hacer libros y la estructura de doblez en zigzag única de los manuscritos mesoamericanos antiguos. Después, explore los jeroglíficos, deidades y sistemas numéricos mayas con los que se ilustran los movimientos del planeta Venus.

Este taller gratuito, dirigido por el artista Ernesto Vázquez, cuenta con la colaboración de Self Help Graphics & Art y complementa la exposición Códice Maya de México.

Sobre Self Help Graphics & Art:
Fundada en 1970, en el corazón del este de Los Ángeles, Self Help Graphics & Art se dedica a la producción, interpretación y distribución de grabados y obras en otras técnicas artísticas de artistas chicanos y latinos. Nuestros programas multidisciplinarios e intergeneracionales promueven la excelencia artística y empoderan a nuestra comunidad al proporcionar acceso a espacios, herramientas, capacitación y capital.

Sobre el artista:
Ernesto Vázquez es un xicano indígena que vive en territorio de los tongva. Es un artista de técnicas mixtas, ilustrador y grabador que usa el grabado en linóleo, la xilografía y la serigrafía para crear obras con temas que van desde lo político hasta lo mítico. Su obra ha sido expuesta internacionalmente, aunque él prefiere mostrarla en galerías dentro de las comunidades locales de Los Ángeles. El hecho de haber crecido en el este de Los Ángeles y los lazos que Ernesto mantiene con su familia, el arte callejero, la justicia social, los asuntos relacionados con el empoderamiento de las comunidades y las organizaciones de base, juegan un papel fundamental en su proceso creativo y la influencia que él ejerce.

Domingos 6 de noviembre, 13 de noviembre y 4 de diciembre.
Need help?
Contact us!
9 am–5 pm,7 days a week
(310) 440-7300