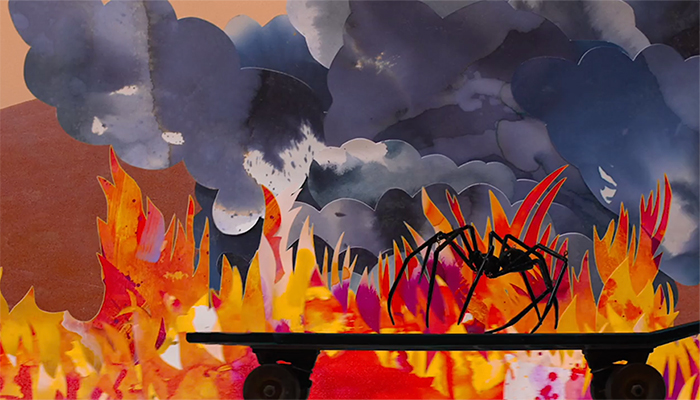 Fire Szn
GETTY CENTER
Museum Lecture Hall
This is a past event
Fire season marks California's nature to burn. With wildfires ripping through an arid landscape uniquely susceptible to flames, it is a place both situated for ruin and ripe for rebirth. Practices of fire management have markedly changed over time, shifting away from natural cycles and rhythms as climate change continues to fuel dry conditions in the American West.

Following a screening of Sea of Fire (Gabbiani, 2022, 7 minutes), artist Francesca Gabbiani joins curator Catherine Taft to explore how her work responds to the anxiety of environmental destruction and political structures through the lens of a spiritual reconnection to nature. Their conversation will address the tenets of ecofeminism and the ways artists have mined the intersections of gender and nature over time.

Francesca Gabbiani is an artist living in Los Angeles. Known for her works utilizing dense layers of intricately hand-cut paper, Gabbiani depicts charged realms and landscapes. She contemplates these non-traditional and overlooked landscapes, such as "non-spaces" where nature and urbanization collide, and the California wildfires. Her philosophical approach depicts humanity secondary to Mother Nature, herself an omnipresent force, and alludes to a reckoning we've both caused and are powerless to stop. Gabbiani's work is included among public collections such as the Metropolitan Museum of Art in New York, the Museum of Modern Art in New York, and the Museum of Contemporary Art in Los Angeles.

Catherine Taft is an art critic, curator, writer and deputy director of LAXART. She is a regular contributor to Artforum magazine and teaches in the Graduate Art Department of Art Center College of Design. Taft is currently working on an exhibition and publication examining four decades of ecofeminist art, for which she received a research fellowship from the Andy Warhol Foundation for the Visual Arts.

The program was organized by Chelsea Anderson, public program specialist at the Getty Research Institute.

The conversation will be recorded and available on the Getty Research Institute YouTube channel.
Need help?
Contact us!
9 am–5 pm,7 days a week
(310) 440-7300