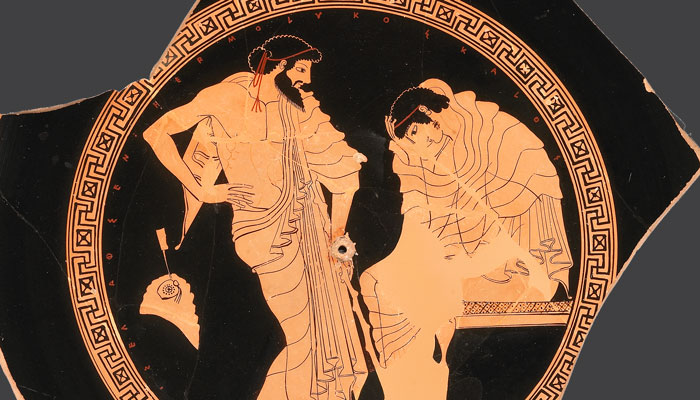 Art Break: Getting to Know the Makers of an Ancient Greek Drinking Cup
ONLINE ONLY
This is a past event


A 2,500-year-old drinking cup in the Getty's collection preserves signatures of both potter and painter – named Kleophrades and Douris. How can we learn more about them and others involved in the cup's production? Join Getty antiquities curator David Saunders and Sanchita Balachandran, archaeological conservator at the Johns Hopkins Archaeological Museum, as they consider traditional art historical approaches, advanced imaging techniques, and technical analyses to better understand the makers of Athenian pottery.

Speakers
David Saunders is associate curator of antiquities at the J. Paul Getty Museum. He obtained his doctorate in classical archaeology from Oxford University in 2006, and his research interests include Greek and South Italian vase-painting, ancient bronzes, and the history of collecting and restoring antiquities. He is editor of Underworld: Imagining the Afterlife in Ancient South Italian Vase-Painting (2021), and is currently working on an exhibition that brings together Maya, Moche, and Greek figure-decorated pottery.

Sanchita Balachandran is a conservator of archaeological materials, and a writer, researcher, and teacher dedicated to following the stories of the people of the past. She is associate director of the Johns Hopkins Archaeological Museum and senior lecturer in the department of Near Eastern studies at Johns Hopkins University. Her research focuses on uncovering the diverse identities of the immigrants, migrants, women entrepreneurs, and enslaved peoples who were among the potters and painters producing ceramics in ancient Athens in the 6th to 4th centuries BCE.
Need help?
Contact us!
9 am–5 pm,7 days a week
(310) 440-7300