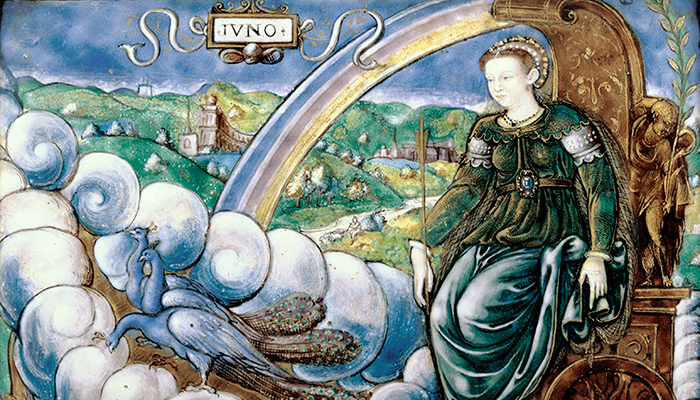 Rainbow Power
Harold M. Williams Auditorium and Online
This is a past event
Attend In Person: Click on the "Get Tickets" button above to reserve.
Watch Online: Sign up here to watch via Zoom

In the summer of 2021, the Union of European Football Associations rejected a request to light up Munich's Allianz Arena in the colors of the rainbow during a match between Germany and Hungary. UEFA asserted that the gesture was seen as a deliberate critique of Hungary's anti-LGBTQ legislation. Their decision, they concluded, was based on their belief that "the rainbow is not a political symbol." Focusing on an early seventeenth-century emblem designed for a Stuart king and prince, this presentation will demonstrate how, to the contrary, rainbows have always been political. They were and remain signs of hope, justice, mercy, and political power.

This talk is moderated by Getty Research Institute director Mary Miller.

Maria H. Loh is professor in art history at Hunter College. She is the author of three books—Titian Remade (2007), Still Lives (2015), and Titian's Touch (Reaktion, 2019)—as well as the recipient of an NEH grant. Her current book project, Liquid Sky, is about representations of the early modern sky.

Sponsored by the Getty Research Institute Council, the annual Thomas and Barbara Gaehtgens Lecture series is dedicated to highlighting leading research in the field of global art history.

This program is part of the Art History in the Making series, which brings artists, critics, curators, and scholars together to explore how both the creative practice of art-making and new discoveries in art history are provoking new questions and redefining the frontiers of the field.

The conversation will be available on the Getty Research Institute YouTube channel following the event.
Need help?
Contact us!
9 am–5 pm,7 days a week
(310) 440-7300