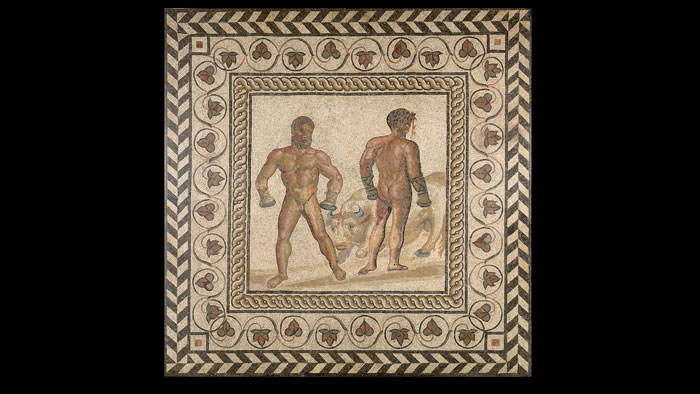 Boxing for Blood: Violent Sport and High Culture in a Roman Mosaic
ONLINE ONLY
This is a past event
Ancient combat sports had some rules, but they often turned bloody. Heroes of the epic past and real-world champions were each celebrated in art and literature for their hard-won victories. A mosaic from a Roman villa in France depicts a notable scene from an ancient epic—a violent boxing match described by Virgil in his Aeneid. Join antiquities curatorial assistant Nicole Budrovich and classics professor Charles Stocking as they examine this mosaic in the context of competitive sports in antiquity and the enduring appeal of violent spectacle.

Nicole Budrovich is a curatorial assistant in the antiquities department at the J. Paul Getty Museum. She has a background in art history and classics, with research interests in Roman mosaics and wall paintings, the experience and reception of ancient art, and the history of collecting. At the Getty, her work focuses on provenance research for the online collection pages. She contributed to the Getty catalogue, Roman Mosaics in the J. Paul Getty Museum, and enjoys writing about provenance and ancient life.

Charles Stocking is associate professor of classical studies at Western University in Ontario, Canada, and research associate at the Harvard Center for Hellenic Studies in Washington, DC. He is the author of The Politics of Sacrifice in Early Greek Myth and Poetry (Cambridge 2017), co-editor of the Bloomsbury Cultural History of Sport in Antiquity (Bloomsbury 2021), and co-author of The Sourcebook of Ancient Greek Athletics (Oxford 2021). Prior to becoming a professor of classics, he was a strength and conditioning coach for the athletics department at UCLA, where he trained many teams and individual athletes including world champions and Olympic medalists.
Need help?
Contact us!
9 am–5 pm,7 days a week
(310) 440-7300