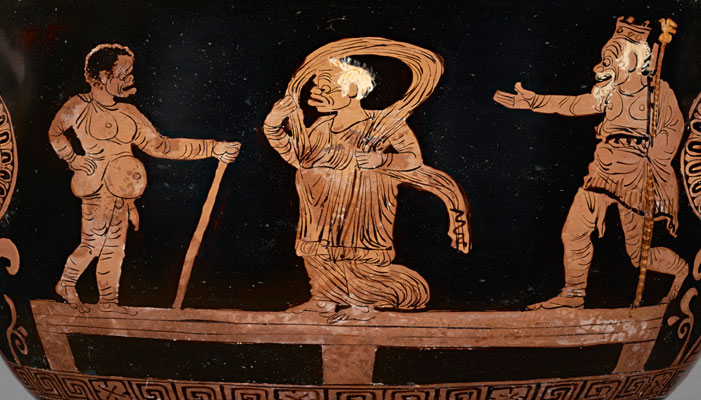 What Makes People Laugh? Ancient Greek Comedy and its Filipino Legacy
Art Break
ONLINE ONLY
This is a past event
Join Mary Louise Hart, associate curator of antiquities at the Getty Museum, and director Jon Lawrence Rivera, founder of LA's Playwrights' Arena, as they decode a comedic scene on a fourth-century BC Greek vase. Using masks, costumes, and active staging to upend classical myths for laughs, ancient Greek comedy set a standard for humor millennia before the invention of today's television sitcoms. Hart and Rivera discuss how Filipino comedy and pageantry play into many of the same themes, demonstrating the enduring features of comic performance across cultures and time.

Mary Louise Hart is associate curator of antiquities at the Getty Museum and is a specialist in the iconography of ancient Greek narrative and theatrical performance. She is a professor within the European Network Ancient Greek Drama sponsored by the University of Athens at Epidauros, Greece, and consults as a dramaturge for classical and adapted productions. Among her many exhibitions is The Art of Ancient Greek Theater at the Getty Villa Museum in 2010.

Director Jon Lawrence Rivera is the recipient of the first Career Achievement Award from Stage Raw. Rivera has directed many world premieres for Playwrights' Arena including MARCH (a live parking-lot play during the pandemic which was a co-production with the Los Angeles LGBT Center), and HELEN by Nick Salamone at the Getty Villa Museum. Recipient of a NY Fringe Festival Award, an LA Weekly Award, and a five-time Ovation Award nominee, Rivera is the founding artistic director of Playwrights' Arena.
Need help?
Contact us!
9 am–5 pm,7 days a week
(310) 440-7300