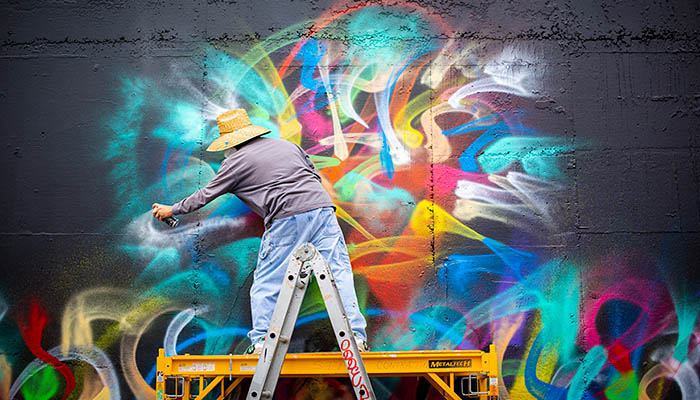 L.A. Graffiti Black Book: Artists in Conversation
ONLINE ONLY
This is a past event
HOSTED VIA ZOOM
Register in advance for this online event.

In celebration of the publication of L.A. Graffiti Black Book, the Getty Research Institute will host a conversation with five of the contributing artists to discuss the volume's impact on their individual and communal art practices. The original Getty Black Book, which collects the work of over 150 of Los Angeles's leading graffiti and tattoo artists, drew inspiration from many rare books in the GRI's collection, in particular a seventeenth-century liber amicorum ("book of friends"), in which the owner's acquaintances each contributed an illustration in the spirit of an autograph book. These graffiti artists saw a resonance in the black sketch books that they carry and invite other artists to "hit" with original work, and named the Getty Black Book LA Liber Amicorum because it bound rival crews into a book of friends. This published version makes the original accessible to a world-wide audience for the first time.

The panel will be moderated by GRI curator of rare books David Brafman.

Born and bred in South Central, Eric Walker, "King Cre8," is a style-writer, street muralist, community leader, and educator. For forty years, he has used his art as a therapeutic practice to help others, making a difference in their individual lives and communities. Cre8 has appeared in commercials for McDonald's and Nike, and his work has been featured in films like Anchorman, and in music videos for Mya and Ginuwine.

Juan Carlos "Heaven" Muñoz Hernandez was exposed to the aerosol arts at an early age while growing up in L.A.'s Boyle Heights. He has worked with sculptor Robert Graham and his studio since collaborating on the Museum of Contemporary Art's "Torso Project" in 1992. His artwork can be found on the Duke Ellington Memorial in New York City, the Charlie Parker Memorial in Kansas City, and the doors of the Cathedral of Our Lady of the Angels in L.A.

The art of Eddie "Fishe" Rico, a Hollywood kid, can be viewed on the walls of major cities throughout the world. He places his work in a post-graffiti realm, where he fuses the styles of street work past with entheogenic experimentation and meditation to create a visual lexicon infused with sacred symbols.

Alex "Defer" Kizu, a co-founder of K2S ("Kill to Succeed"), is a globally renowned street artist working in a range of inspired styles. In pencil and graphite, spray can, and brush, his intricate calligraphy flows in constant flux between cursive and staccato. Defer has developed a script for a subconscious "spiritual language" that questions distinctions between artistic inspiration and transcendent revelation.

London-born painter and illustrator Alex "AXIS" Ventura is best known for his hyper-stylized freehand graffiti, which debuted on the streets of Los Angeles in the late 1980s. By the mid-1990s, his public murals redefined what artists could do with spray paint, and cemented his reputation as an innovative master of the aerosol arts. His commercial clients include Lucas Films, DreamWorks, and the NBA.

The first 100 people to order a copy of L.A. Graffiti Black Book will receive a limited-edition sticker designed by Big Sleeps and Prime, two of the artists featured in the book.

The conversation will be recorded and available on Getty Research Institute's YouTube channel.
Need help?
Contact us!
9 am–5 pm,7 days a week
(310) 440-7300