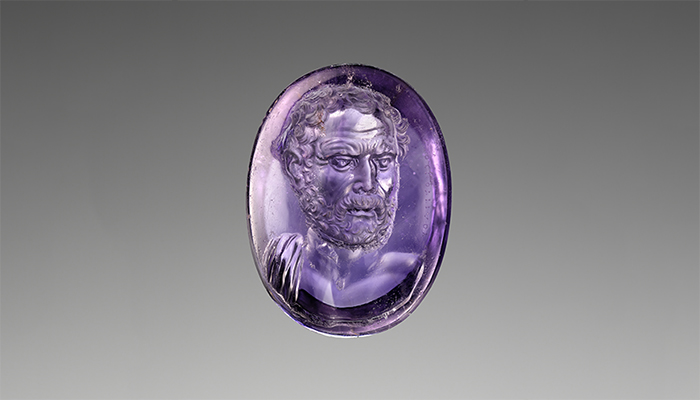 Portable Art: The Fashion and Function of Ancient Engraved Gems
Art Break
ONLINE ONLY
This is a past event
Engraved gems were miniature, portable luxuries reflecting their owner's personal identity. Gem materials and quality varied from exceptional artworks for the elite to more affordable stones accessible to the masses. Transported across the ancient world, they spread shared imagery from big cities to distant outposts. Starting with an extraordinary Roman amethyst by Dioskourides, gem-carver to the emperor Augustus, antiquities curators Kenneth Lapatin and Lisa Çakmak discuss issues of value, status, craftsmanship, and knockoffs.

Kenneth Lapatin is curator of antiquities at the J. Paul Getty Museum. He is a classical archaeologist and has excavated in Greece, Italy, Israel, and England, both above ground and under water. His research interests include the materials, techniques, and functions of ancient art, and the histories of collecting and scholarship. He is the author of Luxus: The Sumptuous Arts of Greece and Rome, and curated the exhibition Carvers and Collectors: The Lasting Allure of Ancient Gems.

Lisa Ayla Çakmak is chair of the ancient Mediterranean and Byzantium department at the Art Institute of Chicago. Prior to her appointment in 2020, Lisa worked at the Saint Louis Art Museum where she managed the reinstallation of the Greek and Roman art galleries, as well as the museum's collections of Egyptian art and ancient coins. She participated in excavations at Tel Kedesh, Israel, and wrote her doctoral dissertation on a selection of Hellenistic seal impressions from the site.
Need help?
Contact us!
9 am–5 pm,7 days a week
(310) 440-7300