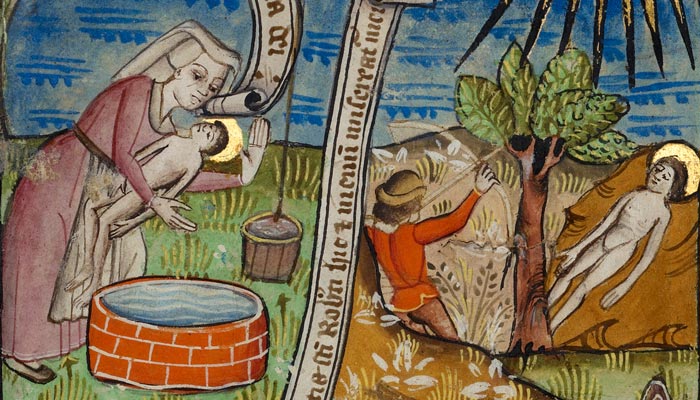 Dangerous Rhetoric: Blood Libel in the Middle Ages and Today
ONLINE ONLY
This is a past event
A manuscript in the collection of the Getty Museum contains the only image of Little Robert of Bury to survive from the Middle Ages. Promoted as a Christian martyr murdered by Jews, the story of Little Robert was likely invented by an abbot looking to garner support in an election year. Blood libel is the false and incendiary claim that Jews kill Christian children for use in rituals that mock the crucifixion. In this conversation, a panel of experts discusses the medieval origins of blood libel mythology and its pervasive reverberations in today's visual and political landscape.

PANELISTS
Ben Katchor is a cartoonist and illustrator whose picture-stories have been collected in a number of books including Julius Knipl, Real Estate Photographer. He is associate professor at Parsons, The New School, in New York City.

Sara Lipton is professor of history at Stony Brook University, New York, and a scholar of medieval Europe, with a focus on Jewish-Christian relations. She is the author of Dark Mirror: The Origins of Anti-Jewish Iconography.

Magda Teter is professor of history and the Shvidler Chair of Judaic Studies at Fordham University. She is the author of Blood Libel: On the Trail of An Anti-Semitic Myth.

MODERATOR
Blake Gopnik is the author of Andy Warhol: A Life as Art. He has been the staff art critic at the Washington Post and Newsweek and is now a regular contributor to the New York Times and NPR's Marketplace.
Need help?
Contact us!
9 am–5 pm,7 days a week
(310) 440-7300