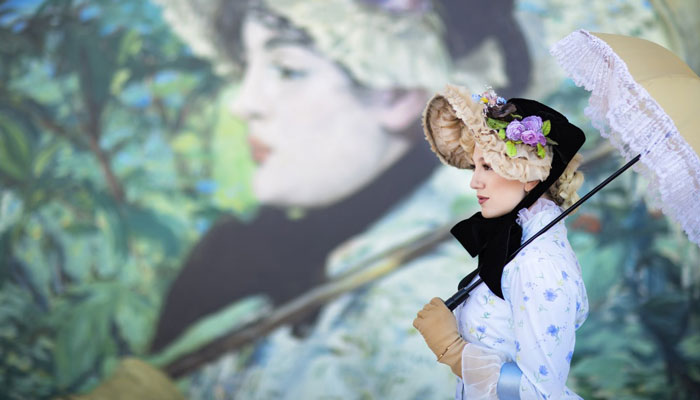 Artist at Work: Fashion and Impressionism
GETTY CENTER
Museum Lecture Hall
This is a past event
Modern life, fashion, and art intersected in the works of the French Impressionists, rendering a new and influential Parisian aesthetic. Join costume historian Maxwell Barr and discover how corsets, bustles, bonnets and more shaped 19th-century silhouettes, attitudes, and tastes as he outfits a live model in a series of period costumes from day dress to ball gown, including a remarkable recreation of the dress featured in Édouard Manet's painting Jeanne (Spring) from the Getty collection. Complements the exhibition Manet and Modern Beauty. This is a free, drop-in program.



Maxwell Barr was trained in couture in Sydney, Australia, incorporating a background of lithography and graphic design into the field of fashion. Blending his couture knowledge with costume construction, Maxwell worked 36 years for the film and television industry. His first position was as a pattern maker with French couturier Jean Louis, known for his iconic work in the films Gilda with Rita Hayworth and Picnic with Kim Novak. Later, Barr served as director of the Costume Shop at the UCLA School of Theater, Film and Television.

Barr's specialty is the history and recreation of fashion from the 17th–19th centuries. On a grant from UCLA, he furthered this research at museums throughout London and Paris, and then embarked on studies in historical and contemporary embroidery methodology at the Royal School of Needlework at Hampton Court Palace, London.

Barr has taught costume history and construction at the Fashion Institute of Design and Merchandising, Woodbury University, and Los Angeles City College. He is now celebrating his 50th year in fashion—and still learning!
Need help?
Contact us!
9 am–5 pm,7 days a week
(310) 440-7300