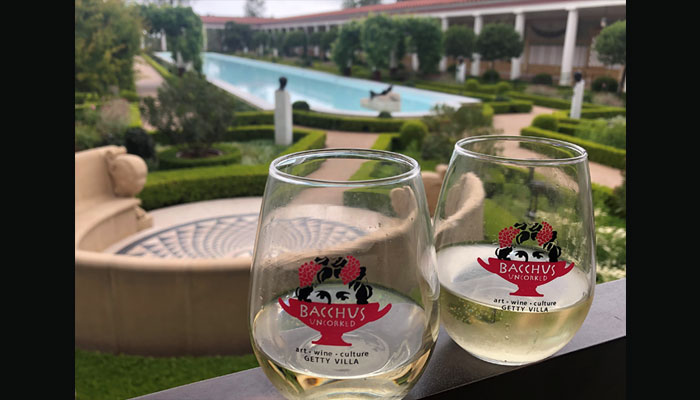 Bacchus Uncorked: Villas and Vineyards
GETTY VILLA
The Getty Villa
This is a past event
Wine and beautiful surroundings went hand in hand in ancient Roman villas. The area of Mt. Vesuvius inspired elite Romans to build lovely homes near the coast and grow grapevines in the rich volcanic soil. Learn from classical archaeologist Steven Tuck about villa life, the association of villas with producing and drinking wine, and the clever ways architecture and decor delighted the eye and inspired conversation. Then sip on a selection of Italian wines curated by wine educator Diego Meraviglia while enjoying the Villa's garden peristyle with its sculpture, painted walls, and flora.

Tickets: $75, includes wine and appetizers; complimentary parking. 21 and over.

This program is inspired by the Villa dei Papiri, the ancient model for the Getty Villa and the subject of the exhibition Buried by Vesuvius: Treasures from the Villa dei Papiri on view through October 28.

Steven L. Tuck is professor of Classics at Miami University in Oxford, Ohio. After earning his B.A. in history and Classics at Indiana University, Tuck received his Ph.D. in Classical art and archaeology from the University of Michigan. He has conducted archaeological fieldwork and research in Italy, Greece, England, and Egypt, and has directed more than a dozen study tours in Italy, concentrated on the city of Rome and the area around the Bay of Naples. He has written widely on subjects related to Roman art and civilization, presented dozens of public lectures across the U.S., and received numerous teaching awards.

Learn about additional Bacchus Uncorked programs:
July 28: Bacchus Uncorked: Wine and the Senses

Planning your visit:
The Getty Villa and its galleries are open to the general public from 10:00 a.m. until 5:00 p.m. Check-in opens one hour to program start time in the auditorium lobby, and seating in the auditorium opens 30 minutes prior. This is a general admission program and seating is open. The Cafe is open for lunch service from 11:00 a.m. until 3:00 p.m., and the Getty Store is open until 5:00 p.m. The exhibition Buried by Vesuvius: Treasures from the Villa dei Papiri will be open for viewing after the lecture to program guests. Wine tasting takes place in partially-covered outdoor spaces; please dress accordingly. Click here for more information.
Need help?
Contact us!
9 am–5 pm,7 days a week
(310) 440-7300