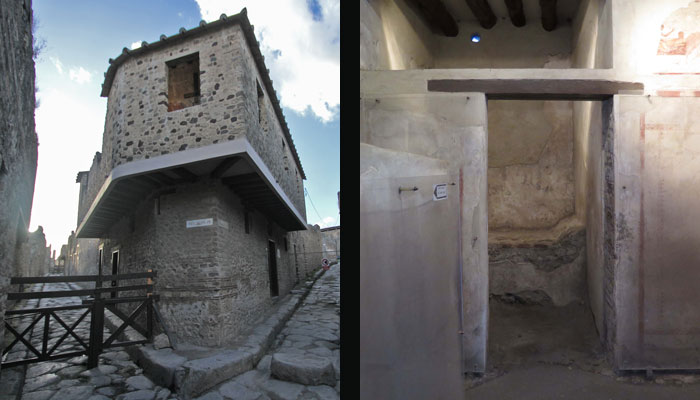 Beyond Sex: Excavating Pompeii's Brothel
GETTY VILLA
Auditorium
This is a past event
Pompeii's brothel, carefully designed for its function, is the only securely identified house of prostitution from Greco-Roman antiquity. Archaeologist Sarah Levin-Richardson leads us on a virtual tour of the structure, from architecture to ancient graffiti and from erotic frescoes to archaeological finds. Discover a world in which male and female prostitutes could flout social norms while paying clients from all walks of life could act like free men. Levin-Richardson brings their interactions alive as she presents the evidence for their exchanges of gifts, greetings, taunts, and praise.

Sarah Levin-Richardson is an Assistant Professor of Classics at the University of Washington, Seattle, having received her Ph.D. in Classical Archaeology from Stanford University in 2009. Her research has been supported by a Rome Prize Fellowship at the American Academy in Rome as well as a two-year Mellon Postdoctoral Fellowship in the Humanities Research Center of Rice University. She has published articles on Roman sex and gender, ancient graffiti, and the modern reception of ancient sexuality, and her book The Brothel of Pompeii: Sex, Class and Gender at the Margins of Roman Society will be released this summer by Cambridge University Press.

Planning Your Visit:
The Getty Villa and its galleries are open to the general public from 10:00 a.m. until 5:00 p.m. With your program ticket, you may arrive up to one hour prior to the start time of the program. For earlier arrival, a separate general admission ticket is recommended. Check-in opens at 2:00 p.m. in the auditorium lobby, doors open at 2:30 p.m. Seating is open and on a first-come, first-served basis. The Cafe is open for lunch service from 11:00 a.m. until 3:00 p.m. Parking fee is $20.
Need help?
Contact us!
9 am–5 pm,7 days a week
(310) 440-7300