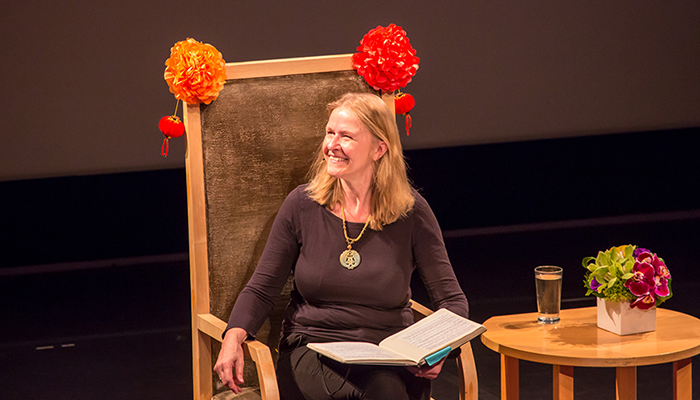 Cornelia Funke's Journey through the Ancient Americas
GETTY CENTER
Museum Lecture Hall
Award-winning children's author Cornelia Funke reads her latest Getty story featuring the pirate and ghost William Dampier, who guards the Getty Center from other ghosts and spirits. This latest installment follows Pirate Dampier as he encounters supernatural visitors from the ancient Americas on the occasion of the exhibition Golden Kingdoms: Luxury and Legacy in the Ancient Americas.

This afternoon storytelling adventure is followed by a reception and a tour of Golden Kingdoms: Luxury and Legacy in the Ancient Americas, on view at the Getty Center. Publications related to Golden Kingdoms will be available for purchase at the museum store.

Cornelia Funke is a celebrated fantasy and adventure writer, and her stories—which include The Thief Lord, Dragon Rider, the Inkworld trilogy, and the MirrorWorld novels—have been translated into 30 languages. Funke created a kids' gallery guide for the Getty Research Institute's exhibition Connecting Seas: A Visual History of Discoveries and Encounters in 2013, and has previously read her original Getty stories in April 2014, June 2015, and June 2016.

This event is recommended for families and kids ages 8 and up.

This program is organized by the Getty Research Institute in conjunction with Pacific Standard Time: LA/LA. Pacific Standard Time: LA/LA is an initiative of the Getty with arts institutions across Southern California. The presenting sponsor is Bank of America.
Need help?
Contact us!
9 am–5 pm,7 days a week
(310) 440-7300