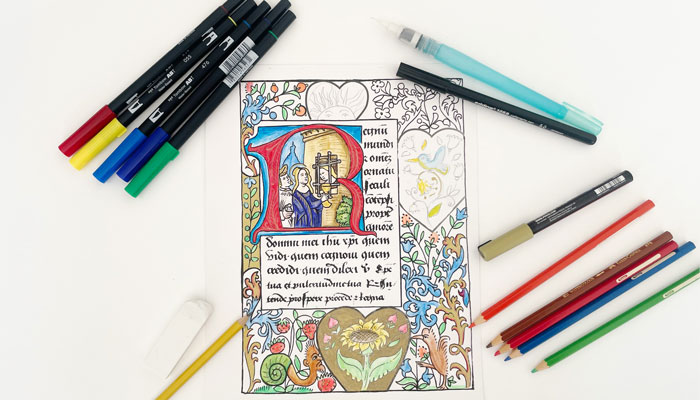 Making Manuscripts: Family Workshop | Diseño de manuscritos: taller familiar
GETTY CENTER
Sunday, August 27, 2023, at 11 am
Sunday, September 10, 2023, at 11 am
Sunday, October 1, 2023, at 11 am
Sunday, October 8, 2023, at 11 am
Museum Courtyard
This is a past event
Join a modern-day scriptorium and design your own illuminated manuscript page in this free family workshop. Discover how graphic design elements like text and images work together to create remarkable books. Stop by the touch table and explore the tools and materials used to make these one-of-a-kind works of art!

Led by artist Daniel González, this free, bilingual, drop-in workshop is produced in partnership with Self Help Graphics & Art and complements the exhibition Graphic Design in the Middle Ages.

About Self Help Graphics & Art:
Founded in 1970 in the heart of East Los Angeles, Self Help Graphics & Art is dedicated to the production, interpretation, and distribution of prints and other art media by Chicana/o and Latina/o artists. Our multidisciplinary and intergenerational programs promote artistic excellence and empower our community by providing access to space, tools, training and capital.

About Daniel González:
Daniel González is a printmaker and graphic designer based in Los Angeles. His works are housed in many university special collections and libraries and have been exhibited internationally. Locally, Daniel created artwork for the La Cienega Metro light rail station and his work is on permanent display at the Natural History Museum of Los Angeles County as part of the Becoming Los Angeles exhibition. Daniel began his studies at the California College of Arts and Crafts and graduated from UCLA in Design Media Arts. Currently, his work is traveling with the exhibition Printing the Revolution, curated by the Smithsonian Museum of American Art.

--------------------------------

Domingos 27 de agosto, 10 de septiembre, 1 de octubre y 8 de octubre
De 11:00 a. m. a 3:00 p. m.
Patio interior del museo
Programa gratuito, sin cita previa

Únase a un scriptorium moderno y diseñe su propia página de manuscrito iluminado en este taller familiar gratuito. Descubra cómo los elementos del diseño gráfico, como el texto y las imágenes, se combinan para crear libros extraordinarios. Acérquese a la mesa táctil y explore las herramientas y materiales que se usan para crear estas obras de arte únicas.

Dirigido por el artista Daniel González, este taller gratuito sin cita previa se lleva a cabo en colaboración con Self Help Graphics & Art, y complementa la exposición Diseño gráfico en la Edad Media.

Sobre Self Help Graphics & Art:
Fundada en 1970, en el corazón del este de Los Ángeles, Self Help Graphics & Art se dedica a la producción, interpretación y distribución de grabados y obras en otras técnicas artísticas de artistas chicanos y latinos. Nuestros programas multidisciplinarios e intergeneracionales promueven la excelencia artística y empoderan a nuestra comunidad al proporcionar acceso a espacios, herramientas, capacitación y capital.

Sobre Daniel González:
Daniel González es un grabador y diseñador gráfico radicado en Los Ángeles. Sus obras se encuentran en muchas colecciones especiales y bibliotecas universitarias y se han exhibido internacionalmente. A nivel local, Daniel creó obras de arte para la estación de tren ligero La Cienega Metro y su trabajo está en exhibición permanente en el Museo de Historia Natural del Condado de Los Ángeles como parte de la exposición Becoming Los Angeles. Daniel comenzó sus estudios en el California College of Arts and Crafts y se graduó de UCLA en Design Media Arts. Actualmente, su obra viaja con la exposición Printing the Revolution, comisariada por el Smithsonian Museum of American Art.
Need help?
Contact us!
9 am–5 pm,7 days a week
(310) 440-7300