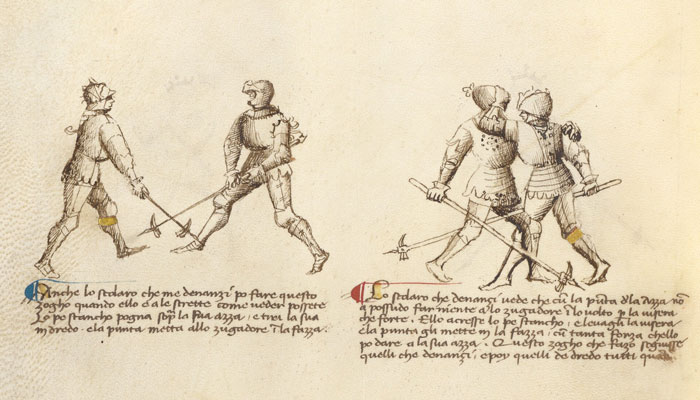 Artist-at-Work: Medieval Martial Arts
GETTY CENTER
Sunday, July 24, 2022, at 11 am
Sunday, August 14, 2022, at 11 am
Museum Courtyard
This is a past event
Witness a knightly Deed of Arms — a contest of martial arts skill and honor in which armored knights demonstrate the combative techniques of sword, spear, poleaxe, and other weapons of the Late Middle Ages. Meet knights from Chivalry Today, ask questions, and discover more about the arms, armor, and fighting techniques illustrated in medieval manuscripts during this free, drop-in program for visitors of any age.

Complements the exhibition The Fantasy of the Middle Ages.

Based in San Diego, Chivalry Today is an educational organization that explores the history, literature, and philosophy of the code of chivalry through workshops, martial arts demonstrations, and school and summer camp programs.

Discover More:
Explore the Getty Museum's famed martial arts guide from the Middle Ages, The Fior di Battaglia (Flower of Battle, Ms. Ludwig XV 13).
Need help?
Contact us!
9 am–5 pm,7 days a week
(310) 440-7300