Conserving Modern Architecture Initiative
A Colloquium to Advance the Practice of Conserving Modern Architecture
In the late 1980s and early 1990s, new conservation challenges emerged as seminal architectural works of the Modern Movement reached fifty years of age thereby becoming eligible for heritage protection.
Many of these buildings have not aged well. The new and innovative construction methods and materials that typify the era challenge traditional conservation approaches and raise new methodological and philosophical issues.
Despite increased recognition of modern architecture's cultural significance, there is a lack of practical conservation knowledge that addresses the many complex challenges. Effectively tackling these issues demands leadership, strategic research, and the ability to broker with industry to develop appropriate repair techniques that translate research into practice and achieve conservation aims. A concerted effort to bring together and distribute existing information as well as identify and fill information gaps is also needed.
To begin to address these complex challenges, the GCI convened a colloquium of experts in the field in March 2013. This two-day event was organized around four themes: (1) Philosophy and Approach (2) Physical Conservation Challenges (3) Education and Training (4) Identification, Assessment, and Interpretation. The Day 1 was focused on presentations of background papers prepared for each theme. Each theme was further amplified by two case studies.
On Day 2, participants were divided into working groups to identify actions that would advance each thematic area. The groups reported back with a view to developing an action plan with input from the wider groups.
Report

Presentations
Welcome
Tim Whalen, Director, Getty Conservation Institute and Susan Macdonald, Head Field Projects, Getty Conservation Institute. With additional remarks by: Ana Tostões, President Docomomo International, Sheridan Burke, President, ICOMOS, ISC20C, and David Fixler, Chair, Association for Preservation Technology
Introduction to Theme 1: Philosophy and Approach
Susan Macdonald, Head of Field Projects, Getty Conservation Institute
Toronto Towers: A Case Study
Michael McClelland, Architect, Toronto
Sydney Opera House: Practical Conservation Management Tools for Daily Use
Sheridan Burke, Heritage Consultant, Sydney
Introduction to Theme 2: Physical Conservation Challenges
Kyle Normandin, Senior Project Specialist, Getty Conservation Institute
Building Technology, Systems, and Conservation
Wessel de Jonge, Architect, Rotterdam
Concrete Research and Conservation
Myriam Bouichou, Materials Science Engineer, Historical Monuments Research Laboratory, Paris
Introduction to Theme 3: Education and Training
Theo Prudon, FAIA, Architect, New York
The International Course of Conservation of Modern Architecture
Tommi Lindh, Conservation Architect, Helsinki
Canadian Conserving Modern Architecture Course
Jeff Cody, Senior Project Specialist, Getty Conservation Institute
Introduction to Theme 4: Identification, Assessment and Interpretation
Marieke Kuipers, Architecture Professor, Delft, The Netherlands
Designating Modern Heritage
Emily Gee, Head of Designation, English Heritage, London
Cultural Landscape Foundation
Charles Birnbaum, FASLR, FAAR, Cultural Landscape Foundation, Washington DC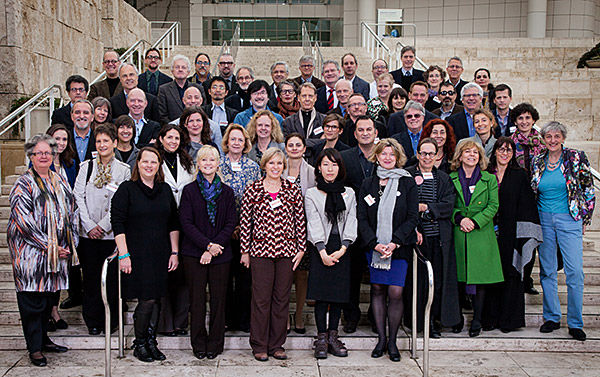 Colloquium participants
Page updated: February 2014