Getty's digital publishing work focuses on producing innovative and long-lasting digital publications, building and sharing open tools and platforms for the creation and digital dissemination of both digital and print publications, and supporting the growing community of publishers and technologists working on art-related digital projects at the Getty and beyond.
Our primary work focuses around Quire, a modern multiformat publishing tool we are building, using, and working toward open sourcing.
Talks & Resources

Think Digital
A two-part talk on the fundamentals of conceptualizing and implementing digital publishing projects — National Museum Publishing Seminar, July 20 and 28, 2020
---
Quire: Multiformat Publishing Solutions for Art Books and Beyond
An introduction to Quire and a presentation of three case studies by beta users from Mills College Art Museum, Journal18, and the San José Museum of Art — Open Publishing Fest, May 28, 2020
---
Mapping Open Source / Making More of Open Source
Two connected talks examining open source software creation and best practices in the museum sector — MCN, November 2018 and November 2019
---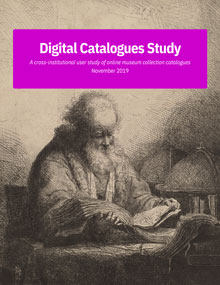 Digital Catalogues Study
The final report on a cross-institutional user study with the Art Institute of Chicago, the J. Paul Getty Museum, the National Gallery of Art, and the Philadelphia Museum of Art — November 2019
---
Assume that despite your best efforts, it will all eventually break
A talk examining development and maintenance issues critical in ensuring the longevity of online publications — Catalogue Raisonné Scholars Association, November 2018
---
Online Publishing: What We've Learned and Where We're Going
American Alliance of Museums, May 2017
---
What Does a Print Book Publisher Know About SEO?
The Iris, December 2016
---
Breaking Almost Everything: The Current Practice and Future Potential of Digital Publishing
Institute of Fine Arts, October 2016
---
An Editor's View of Digital Publishing
A blog post from one of Getty's book editors sharing the opportunities and issues that come with working in a new digital publishing tool like Quire — The Iris, May 2016
---
Closer to Metal
A talk on the shifting fundamentals of book publishing, from setting lead type for letterpress printing, to coding and the command line — ebookcraft, Toronto, March 2016
---
Digital Publishing Needs New Tools
A blog post on web development tools that might open new ground in digital book publishing — The Iris, November 2015
---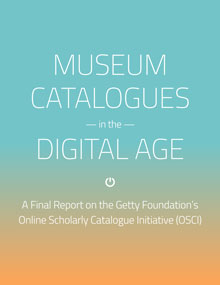 Museum Catalogues in the Digital Age
The final report on the Getty Foundation's landmark Online Scholarly Catalogue Initiative (OSCI) — 2009–2017
---
Join the conversation with the Museum Publishing Digital Interest Group (MuPuDIG), founded by and for museum publishers interested in how emerging digital platforms and processes impact our work.