Conserving Modern Architecture Initiative
The Conserving Modern Architecture Initiative (CMAI) is a comprehensive, long-term, and international program of the Getty Conservation Institute (GCI). The goal of the CMAI is to advance the practice of conserving twentieth-century heritage, with a focus on modern architecture, through research and investigation, the development of practical conservation solutions, and the creation and distribution of information through training programs and publications. The CMAI works with international and local partners, including professional and organizational networks focused on modern architecture conservation, to expand the existing knowledge base.
Background
In the late 1980s and early 1990s, new conservation challenges emerged as the seminal works of the Modern Movement reached fifty years of age and became eligible for heritage protection. Many of these buildings have not aged well. The new and innovative construction methods and materials that typify the era challenge traditional conservation approaches and raise new methodological and philosophical issues. Despite increased recognition of modern architecture's cultural significance, there is a lack of practical conservation knowledge that addresses the many complex challenges. Effectively tackling these issues demands leadership, strategic research, and brokering with industry to develop appropriate repair techniques that translate research into practice and achieve conservation aims. A concerted effort to bring together and distribute existing information as well as identify and fill information gaps is also needed.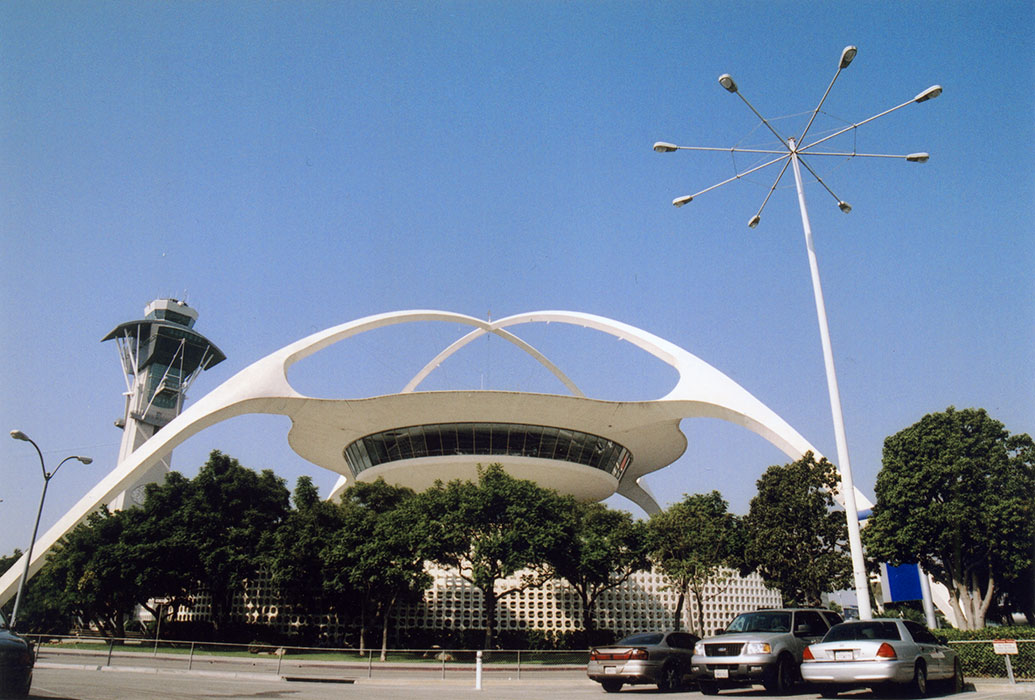 The Los Angeles International Airport Theme Building (1961), designed by Pereira and Luckman Associates, Welton Becket and Associates, and Paul R. Williams. Photo: Gail Ostergren, GCI.
Complementing the GCI's international role in advancing the conservation of modern and contemporary art, the CMAI aims to build on the GCI's scientific research capacity and practical conservation expertise in modern materials. The initiative also provides the potential to further explore the relationship between modern art and architecture so characteristic of the era. The Getty Research Institute's rich collections related to modern architecture, along with the Getty's iconic building, our location in Los Angeles—a laboratory for architecture of this period—and the network of experienced local professionals, means the GCI is well positioned to address these issues. As a first step the GCI compiled Conserving Twentieth-Century Built Heritage: A Bibliography, an extensive subject bibliography on the conservation of modern architectural materials.
Goals
The CMAI will identify and address conservation challenges particular to modern architecture through a comprehensive research and implementation program. Its activities will include:
Defining Scope: Identify key research questions and issues including technical, methodological, and implementation problems relevant to the conservation of modern architecture across a wide range of building types and geographic areas.
Scientific Research: Develop and implement a research project related to materials-based conservation challenges in order to advance applicable conservation techniques.
Model Field Projects: Identify and develop model field projects that draw upon methodological and technical research outcomes and demonstrate improved approaches and methods.
Education and Training: Develop training programs and materials for practitioners targeted to specific needs in the field.
Key Resources: Create new literature and widely disseminate existing resources including philosophical and technical materials, guidance on the application of conservation methods, and lessons learned from GCI field projects.
Public Programming: Host lectures and workshops on topics related to the conservation of modern architecture with relevance to a wide professional audience.
Page updated: May 2018