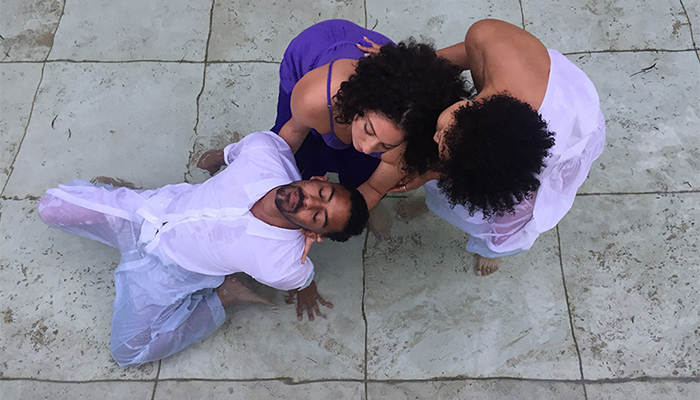 Devon Welsh, Sarah Davachi, No)one. Art House
Friday Flights
GETTY CENTER
Museum Courtyard
This is a past event
Devon Welsh is a Montreal-based singer, songwriter, and artist. He released two critically acclaimed albums as the frontman of Majical Cloudz, an electronic duo whose intense and innovative music combined aspects of poetry, hardcore, minimalism, and folk. After a period away from the music industry, Welsh returns with his debut solo album, Dream Songs, set to be released this year.

Appearing as part of a limited set of four performances this summer, Welsh debuts his new solo project—one that steps out of the strict aesthetic established in Majical Cloudz while continuing and expanding on some of the core ideas which that project explored. His new songs are a series of reflections on themes: time, separation, the complexities of love, will, eternal life, and the seasons.

Sarah Davachi is the latest in a string of experimental electronic musicians invited to create experiential soundtracks to Robert Irwin's Central Garden as part of the Friday Flights series, following previous iterations by M. Geddes Gengras, Sam Rowell, Madalyn Merkey, and John Wiese. Davachi is among the preeminent emerging composers and performers of electroacoustic music.

Her site-specific—and site-transformational—compositions explore intimate aural spaces, utilizing extended durations and simple harmonic structures that emphasize subtle variations in overtone complexity, temperament and intonation, and natural resonances. A graduate of the renowned program for experimental and electronic music at Mills College in Oakland, California, Davachi is informed by minimalist tenets of the 1960s and 1970s, baroque leanings toward slow-moving chordal suspensions, and experimental production practices within the studio environment. In addition to her recorded output, including Let Night Come on Bells End the Day released this March by Recital Records, Davachi has toured extensively across the globe and has shared the stage with artists such as Donald Buchla, Morton Subotnick, Grouper, Alessandro Cortini, Robert Aiki Aubrey Lowe, and filmmaker Paul Clipson.

No)one. Art House premieres a new site-specific piece for the Getty's fountains choreographed by Samantha Blake Goodman. Moving within the water and across travertine surfaces, dancers will react to the elements and the geometric architectural forms while soundtracked by ambient sounds generated by soulful vocalist and electronic musician Akua accompanied by trumpeter Anthony Calonico. This performance is the latest in a series of commissions No)one. Art House has premiered at Los Angeles arts institutions including the California African American Museum, Hauser & Wirth, and the Skirball Cultural Center, in addition to a set of unique collaborations with Solange's Saint Heron collective.

Founder and curator of No)one. Art House, Christopher Bordenave, was born and raised in Los Angeles, Bordenave studied at the Ailey School at the Alvin Ailey American Dance Theater and the LINES Ballet School. Bordenave has performed the works of Nacho Duato, Stijn Celis, Alonzo King, Idan Sharabi, and Gustavo Ramirez Sansano with numerous companies throughout the U.S. and abroad. In 2014, Bordenave founded No)one. Art House, an organization that promotes and produces quality interdisciplinary art such as dance, film, and photography throughout the greater Los Angeles area.

ARTISTS' BOOKS FEST
To complement the Getty Research Institute's exhibition Artists and their Books/Books and their Artists, selected Los Angeles-based artists who make books and independent small-print presses will set up shop during each Friday Flights event this summer. This pop-up marketplace is a celebration of the city's thriving community of alternative book-makers, who challenge the conventions of creating, reading, and distributing publications. Participating artists and imprints to be announced.
Need help?
Contact us!
9 am–5 pm,7 days a week
(310) 440-7300