Become a Getty Docent at the Getty Center or Getty Villa
The Getty accepts applications year-round for annual classes. Please complete the online application.

Docents are volunteers in the Museum's Education Department who introduce visitors of all ages to the art, architecture, gardens, and educational opportunities through a variety of programming.

The Getty Docent Program offers volunteer opportunities in the following two areas.

1. Gallery Docents (Getty Center and Getty Villa)

Gallery docents provide tours of the Museum's collection for the general public, which includes K-12 students. The training program takes place September through June on selected Saturdays (general public program) and one weekday (student program) from 9:00 a.m. to 3:00 p.m.

Annual interviews take place in summer.

2. Site Docents (Getty Center and Getty Villa)

Site docents provide tours of the architecture and gardens for visitors of all ages and facilitate in the Sketching Gallery and Family Room (Getty Center) and the Family Forum (Getty Villa). The training program takes place on selected Saturdays in summer from 9:00 a.m. to 3:00 p.m.

Applications for the Site Docent Program at the Getty Villa are now being accepted.
Volunteer at the Getty Center or the Getty Villa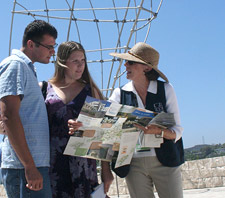 We are not currently accepting applications for the Getty Volunteer Program, but we always welcome questions from prospective volunteers. Please contact us at volunteer@getty.edu.

Do you love art, helping people, and working in a beautiful, stimulating environment? Are you looking for new pursuits? Do you have four hours to spare every week or two? If so, why not consider becoming a volunteer at the Getty Center in Los Angeles or the Getty Villa in Pacific Palisades?

As a Visitor Services volunteer, you'll greet Getty visitors; answer their questions about the Getty Center or Getty Villa; assist with special events and projects; and sometimes help out in offices throughout the Getty.

Ages 18 and up welcome. Fluency in more than one language helpful but not required; no previous arts experience necessary. Ongoing training is provided. Weekday, weekend, and evening shifts are available and can accommodate a variety of schedules.


The J. Paul Getty Trust is an equal-opportunity employer.
Last updated January 2017