Terra 2022 World Congress on Earthen Architecture
Looking Back, Moving Forward—Advances in Conservation
June 7–10, 2022
Santa Fe, New Mexico, USA
Visit the Terra 2022 website for full conference details.
Learn about the year-long virtual event series, running from June 2021 to June 2022, leading up to the 13th World Congress on Earthen Architectural Heritage.
Terra 2022 Update
In light of the uncertainty surrounding the COVID-19 pandemic and the subsequent logistical challenges, economic repercussions and current travel restrictions we are facing globally, Terra 2021 World Congress on the Study and Conservation of Earthen Architectural Heritage has been postponed to June 2022 and has been renamed Terra 2022.
The new dates will be June 7–10, 2022; location remains Santa Fe, New Mexico.
The abstract submission, review and selection process has been completed at this time and the Call for Abstracts will not be re-opened. The program for Terra 2022 will be composed of the abstracts already received and reviewed.
In the months to come, we will be announcing virtual opportunities for engagement leading up to Terra 2022, which will be the 50th anniversary of earthen architecture professionals convening to advance the field.
We will continue to monitor the COVID-19 situation closely and follow guidelines issued by the US Center for Disease Control and the World Health Organization.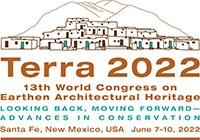 About the World Congress
Since the first meeting of experts in 1972 in Iran, a series of international conferences devoted to the study and conservation of earthen architecture has been organized in different countries around the world. The objectives of these conferences are to strengthen collaboration, create and reinforce regional networks and advance the field through professional exchange, publication of abstracts, proceedings and related materials.
Terra 2022
Terra 2022 is expected to draw hundreds of specialists from around the world in the fields of conservation, anthropology, archaeology, architecture and engineering, scientific research, and site management of earthen architectural heritage including regional practitioners from the pueblos, tribes and communities in and around New Mexico engaged in caring for this heritage.
The four-day program will convene a diverse group of professionals from a wide range of geographic regions to share their knowledge and experience on the state of the art of earthen heritage study and conservation through presentations, posters, and videos/digital media.
The wealth, variety and significance of earthen heritage in Santa Fe, across New Mexico, the greater region of the southwestern United States and northern Mexico make it an ideal setting for the congress and will help inform and stimulate conversations around earthen heritage.
Through participation in this world congress and publication of the proceedings, Terra 2022 aims to further strengthen the network of professionals working in the field, foster international exchange and present the latest research to advance the study and conservation of earthen architectural heritage around the world.
Congress Themes
Southwestern United States and Northern Mexico
Archeological Sites
Historic Buildings and Structures
Urban Settings
Cultural Landscapes and Cultural Routes
Advances in Research
History of Conservation
Education and Advocacy
Risk and Vulnerability
Care by and for Communities
Key Dates
February 28, 2022
Early bird registration closes
March 15, 2022
ICCROM scholarship application due (For Middle East & North Africa)
June 3–6, 2022
Pre-congress workshops
June 7–10, 2022
Terra 2022 13th World Congress on Earthen Architectural Heritage
Project Partners
National Park Service, Vanishing Treasures Program and University of Pennsylvania, Stuart Weitzman School of Design under the aegis of ICOMOS–ISCEAH
Team Members, Getty Conservation Institute
Leslie Rainer, Senior Project Specialist
Claudia Cancino, Senior Project Specialist
Jeanne Marie Teutonico, Associate Director, Strategy and Special Initiatives
Sara Lardinois, Project Specialist
Benjamin Marcus, Project Specialist
Elizabeth Levine, Senior Project Coordinator

On June 11, 2021 a webinar was moderated by Jeanne Marie Teutonico, Associate Director of Getty Conservation Institute in conversation with:
Claudia Cancino, manager of Getty Conservation Institute's Earthen Architecture Initiative
Frank Matero, University of Pennsylvania Stuart Weitzman School of Design
Lauren Meyer, National Park Service Vanishing Treasures Program
They discussed their respective research and experience in conserving earthen architectural heritage in the southwestern United States and internationally, challenges and current issues, the value and significance of earthen architectural heritage in New Mexico, and plans for Terra 2022. Lauren Meyer, National Park Service Vanishing Treasures Program