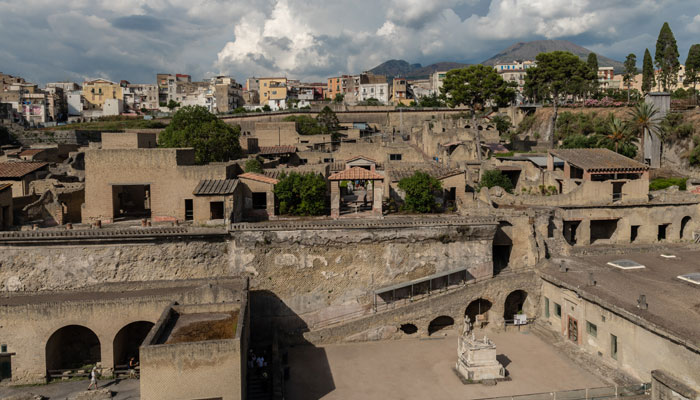 The Future of the Past at Herculaneum
GETTY VILLA
Auditorium
This is a past event
Francesco Sirano, director of the Archaeological Park of Herculaneum, discusses the past, present, and future of the site buried by the eruption of Mt. Vesuvius in AD 79. Excavated since 1738, a decade before nearby Pompeii, Herculaneum presents challenges and opportunities different from its more famous neighbor. Sirano addresses exciting new finds, conservation issues, and recent efforts to boost public awareness and engagement.

This lecture complements the exhibition Buried by Vesuvius: Treasures from the Villa dei Papiri, which will be open before and after the lecture. It is presented in collaboration with the Italian Cultural Institute, Los Angeles.

Francesco Sirano is an archaeologist and the director of the Parco Archeologico di Ercolano. His extensive museum management experience was honed at the Museo Archeologico e Teatro dell'antica Teanum Sidicinum, the Museo Archeologico antica Allifae, the Museo Archeologico e Circuito siti dell'Antica Capua, and the Parchi Archeologici di Baia e Cuma. Among his many research interests are Greco-Roman archaeology, the study of the image, and material culture.

Learn more about the conservation work at Herculaneum in this post from the Getty Iris blog.

Planning your visit:
The main gate on Pacific Coast Highway opens to ticketed guests at 6:00 p.m. A selection of light "grab 'n go" dinner fare, as well as beer and wine, are available for purchase at the Cafe until 7:15 p.m. Seating is open and on a first-come, first-served basis. Guests arriving late will be seated at the discretion of Getty staff. The galleries will be open before and after the program. Complimentary refreshments will be served. Parking fee is $10.
Need help?
Contact us!
9 am–5 pm,7 days a week
(310) 440-7300