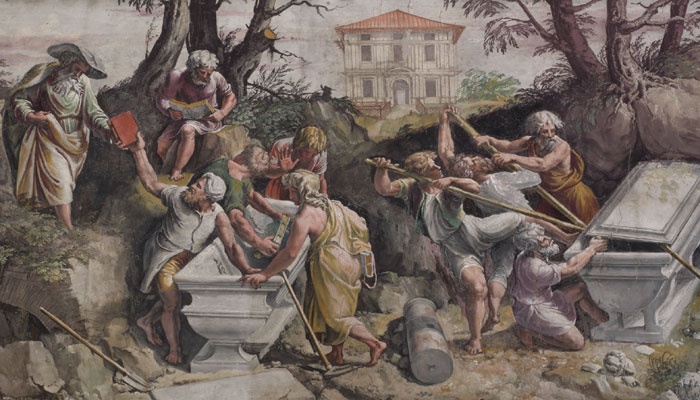 Antiquities in Motion: From Excavation Sites to Renaissance Collections
GETTY VILLA
Auditorium
This is a past event
How did ancient objects make their way from discovery to display in early modern Rome? Art historian Barbara Furlotti reconstructs the long and often complicated journey of artworks from excavation sites to elite Renaissance collections. She examines the cast of characters responsible for bringing antiquities to market, from laborers at dig sites and cunning dealers at marketplaces, to skilled restorers who cleaned and repaired the pieces to the well-read antiquarians who gave them new layers of meaning.

Barbara Furlotti is associate lecturer at the Courtauld Institute of Art in London, England. Her research interests include the history of collecting, antiquarianism, and the art market in Renaissance Italy. She is the author of A Renaissance Baron and His Possessions: Paolo Giordano I Orsini, Duke of Bracciano (1541–1585), and she contributed to the Getty publication Display of Art in the Roman Palace, 1550–1750. Her latest publication Antiquities in Motion: From Excavation Sites to Renaissance Collections is available June 2019 from Getty Publications.

A limited number of copies will be available for sale in the Museum Store from 7:00 to 7:30 p.m.

Planning your visit
The main gate on Pacific Coast Highway opens to ticketed guests at 6:00 p.m. A selection of light "grab 'n go" dinner fare as well as beer and wine are available for purchase at the Cafe until 7:15 p.m. Seating is open and on a first-come, first-served basis. Guests arriving late will be seated at the discretion of Getty staff. The galleries will be open before and after the program. Complimentary refreshments will be served. Parking fee is $10.
Need help?
Contact us!
9 am–5 pm,7 days a week
(310) 440-7300