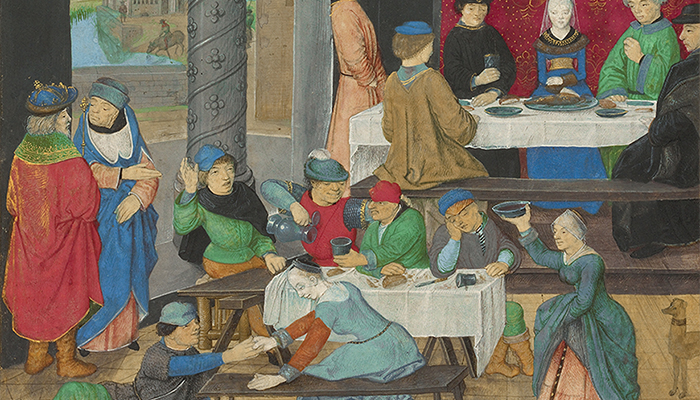 The Taste of Temptation: Aphrodisiacs in the Renaissance
Talk & Tasting
GETTY CENTER
Museum Lecture Hall
This is a past event
Chefs of the Renaissance era were fascinated by ingredients that could arouse the libido, heighten pleasure and lead eventually to conception. In this talk food historian and author Ken Albala will unravel the logic of Renaissance aphrodisiacs, delving into herbal lore, nutritional theory, and folk medicine. (He will also explore why not being turned-on by food was an equally important topic!). Following the talk, participants indulge in specially curated food and drink inspired by historical recipes (and filled with amorous ingredients) at the Getty Restaurant. Complements The Renaissance Nude exhibition. Tickets $55 or $65 with hypocras/mead pairing (21 and over for pairing option). Complimentary parking.

Ken Albala
Ken Albala is Professor of History at the University of the Pacific and has authored or edited 25 books on food including Eating Right in the Renaissance, Food in Early Modern Europe, Cooking in Europe 1250-1650, The Banquet, Beans (winner 2008 IACP Jane Grigson Award), Pancake, Grow Food, Cook Food, Share Food, Nuts: A Global History and, most recently, Noodle Soup: Recipes, Techniques, Obsession. Albala is currently working on a history of aphrodisiacs and a book about walking with wine.

He has served as editor for A Cultural History of Food: The Renaissance, the 4-volume Food Cultures of the World Encyclopedia, and was series editor of Rowman and Littlefield Studies in Food and Gastronomy for which wrote Three World Cuisines (winner of the Gourmand World Cookbook Awards best foreign cuisine book in the world for 2012).

He has also co-authored two cookbooks: The Lost Art of Real Cooking and The Lost Arts of Hearth and Home. His course Food: A Cultural Culinary History is available on DVD from the Great Courses and for free as a podcast.
Need help?
Contact us!
9 am–5 pm,7 days a week
(310) 440-7300