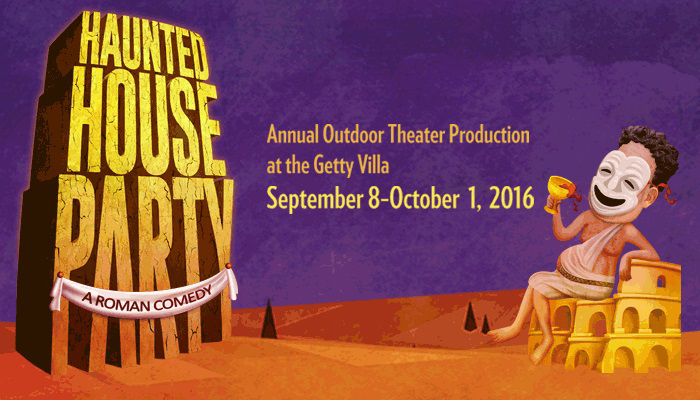 Haunted House Party, A Roman Comedy
GETTY VILLA
The Barbara and Lawrence Fleischman Theater
Haunted House Party, A Roman Comedy
Based on Plautus's Mostellaria
Directed and adapted by Matt Walker
Co-produced by Troubadour Theater Company

Haunted House Party is a hilarious Roman comedy based on Plautus's Mostellaria (about 200 B.C.) that would be right at home as a television sitcom premise today: When big daddy Theopropides is away, his son Philolaches will play! The lovesick youth has borrowed a large sum of money from a swindler to buy the freedom of a slave girl. When Theopropides returns sooner than expected, his slave Tranio is forced into some high-concept scheming to save the day. Fraught with peril and laughs aplenty, this knockabout farce features the musical, comedic, circus style of the one and only Troubadour Theater Company (aka the Troubies). Evoking the spirit and improvisation of Roman traveling comedy troupes, the Troubies' classic blend of theatricality and mayhem is a must-see. Tickets $48. Tickets available beginning July 1.
Need help?
Contact us!
9 am–5 pm,7 days a week
(310) 440-7300