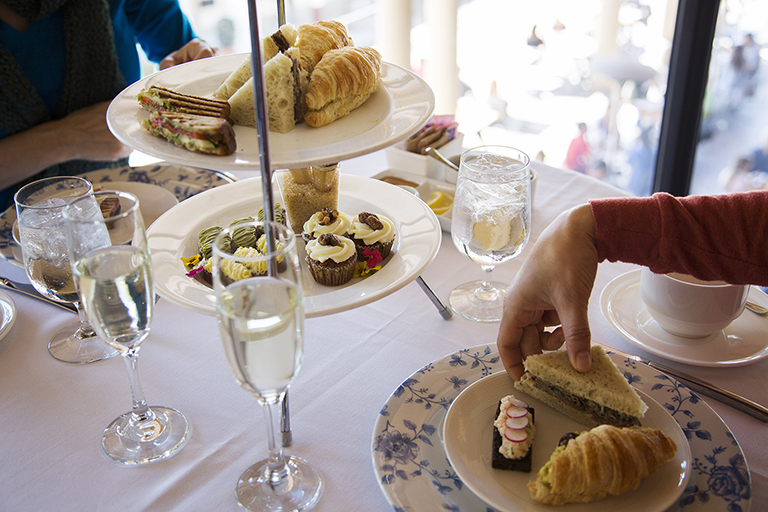 Afternoon Tea at the Getty Villa
When: Thursdays, Saturdays and Sundays at 1 pm
Where: Getty Villa, Founder's Room
Price: $44 per person, plus tax and 18% service charge.
Reservations are recommended. Please call 1-800-369-3059 or reserve through Open Table.
Enjoy Tea by the Sea, a special meal inspired by the herbs, vegetables, and fruits that grow in the Villa's authentically re-created first-century Roman gardens.
Feast on a Mediterranean-inspired menu of savory sandwiches, sweet scones and tea breads, and gourmet desserts—along with fruits, cheeses, and a varied selection of teas. (Wine and prosecco are available for a small additional charge.)
Tea is served in the Founder's Room, an elegant space featuring floor-to-ceiling windows overlooking the Villa.
Menus change seasonally.
Tea by the Sea—Sample Menu & FAQs (PDF, 246 KB)
About Tea by the Sea
Tea by the Sea was inspired by the Villa's authentically recreated first-century Roman gardens—and by visitors' fond memories of the Villa's Tea Room, which closed in 1997. In a further tribute to the early days of the Museum, the menu features Mrs. Garrett's carrot cake, made by our pastry chef from the personal recipe of Jean Garrett, the late wife of the Museum's first director.
Culinary Garden Tour
After tea, continue the culinary theme of your visit to the Getty Villa and join a culinary-inspired garden tour that begins at 2:45 pm. You'll explore herbs and fruits that were once savored by the ancient Romans—several of which feature in Tea by the Sea's seasonal menu—and discover their meanings in Roman myth and art. Ask your server for details.
FAQs
What does the per person cost for Tea by the Sea not include?
The per-person cost does not include additional beverages (i.e. assorted sodas, coffee, decaf coffee, wine, beer, juices, milk) nor does it include service charge or tax. It also does not include the cost of parking.
Can I make a reservation for my large group?
Due to high demand, Tea by the Sea can only accommodate parties of up to 8 people.
If I have a reservation for Tea by the Sea, do I need to also reserve admission to the Villa?
No. Your reservation for Tea by the Sea also serves as your admission ticket. You may continue to visit the Villa after you have attended the tea.
I have food allergies. What can I eat at Tea by the Sea?
We can accommodate some food allergies, but not all. Please inform us of any food allergies when you make your reservation.
Can I bring children to Tea by the Sea?
Yes. We have a special menu for children under 8 years old, which includes hot chocolate, sandwiches, and dessert.
How much does the Children's Tea by the Sea cost?
$30, not including sales tax and service charge.