Conservation of América Tropical (1988–2012)
Videos
Conservation of América Tropical Playlist
Video from América Tropical Interpretive Center
Symposium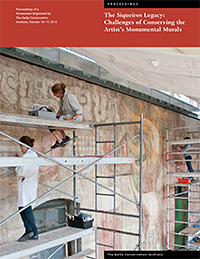 The Siqueiros Legacy: Challenges of Conserving the Artist's Monumental Murals
This two-day symposium in October 2012 presented different aspects of some of Siqueiros's most important murals.
Bibliography

David Alfaro Siqueiros: Murals in Los Angeles, Second Edition (2016)
Compiled over the course of the Conservation of América Tropical project, this selected bibliography focuses on the murals painted by Siqueiros in Los Angeles in 1932, with additional references on materials and techniques for context. This second edition, updated in 2016, provides references and news items related to these murals from 1932–2014.
Monitoring Plan and Tools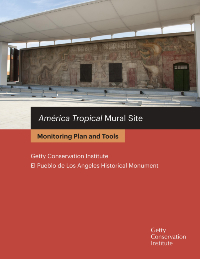 América Tropical Mural Site: Monitoring Plan and Tools (2021)
This publication is a guide to effective monitoring of the condition of the mural and the mural site, allowing site managers, conservators, contractors, and stewards to make sound, informed decisions for its maintenance and long-term preservation.
GCI newsletter
The Return of America Tropical (Fall 2012)
América Tropical Update (Spring 2011)
The Siqueiros Mural (Fall 1995)
América Tropical (Summer 1994)
Getty Publications
El Pueblo: The Historic Heart of Los Angeles
Getty Research Journal
The Getty Conservation Institute Project to Conserve David Alfaro Siqueiros's Mural América Tropical (no. 6, 2014)
Shifra Goldman and David Alfaro Siqueiros's América Tropical (no. 6, 2014)
The Iris: Behind the Scenes at the Getty
Conserving David Siqueiros' América Tropical
A Big Lift for América Tropical
América Tropical Is Reborn on 80th Birthday
¡América Tropical! Celebrating a Siqueiros Masterpiece
The Getty Magazine
Siqueiros's América Tropical Unveiled (Winter 2012)
Articles and Papers
Bishop, Mitchell Hearns, Giancarlo Buzzanca, Gaetano Palumbo, and Leslie Rainer. 1999. "Digital recording of the condition of América Tropical, a mural by David Alfaro Siqueiros." In New Techniques for Old Times, CAA 98: Computer Applications and Quantitative Methods in Archaeology: Proceedings of the 26th Conference, Barcelona, March 1998. ed. Juan A. Barceló, Ivan Briz and Assumpció Vila. 59-63. BAR International Series, 757. Oxford: Archaeopress.
Buzzanca, G., G. Palumbo, L. Rainer, and M.H. Bishop. 2000. "America Tropical: Un murale di David Alfaro Siqueiros a Los Angeles: La registrazione digitale del condition report." Bollettino ICR (1): 14-27.
Lange, Eric B. 1996. "Development of an on-site digital imaging system for the documentation of wall paintings." In Imaging the Past: Electronic Imaging and Computer Graphics in Museums and Archaeology. ed. Tony Higgins, Peter Main and Janet Lang. 1-11. Occasional Papers (British Museum), no. 114. London: British Museum.
Piqué, Francesca, Michele R. Derrick, A. Parker, David A. Scott, M. Schilling, and Miguel Saavedra Pérez. 1995. "Original technique of the mural América Tropical by David Alfaro Siqueiros." In Materials Issues in Art and Archaeology IV: Symposium Held May 16-21, 1994, Cancun, Mexico. ed. James R. Druzik, José Luis Galván Madrid, I.C. Freestone and George Segan Wheeler. 365-71. Materials Research Society symposium proceedings, v. 352. Warrendale, Pennsylvania: Materials Research Society.
Rainer, Leslie. 2011. "América Tropical: Cultural identity, controversy and conservation of a mural." In ICOM-CC 16th Triennial Conference Lisbon 19-23 September 2011: Preprints. ed. Janet Bridgland. Lisbon: Critério--Produção Grafica, Lda.
Rainer, Leslie. 2012. Conserving and presenting Siqueiros's América Tropical. American Art 26 (1 Spring): 14-17.
Page updated: August 2019