David Alfaro Siqueiros: Murals in Los Angeles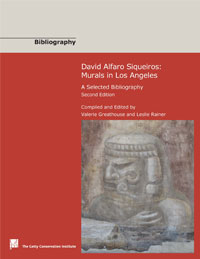 A Selected Bibliography
Second Edition
Compiled and Edited by Valerie Greathouse and Leslie Rainer
2016
Download PDF Low resolution (489KB)
Download PDF High resolution (1.2MB)
Print on demand (Lulu.com)
During the period in 1932 when David Alfaro Siqueiros was in Los Angeles, he painted three murals: Street Meeting at the Chouinard Art Institute; América Tropical at El Pueblo de Los Angeles; and Portrait of Mexico Today at a private residence in Pacific Palisades. A fourth mural may have been painted at the John Reed Club in Hollywood, but was largely undocumented and likely incomplete at the time of his departure.


While in Los Angeles, Siqueiros discovered a number of new materials and technologies for painting large-scale murals. Always an innovator, this period was particularly rich in his career, and the work he did in Los Angeles laid the groundwork for his later murals in Mexico and South America.


This selected bibliography, compiled over the course of the
Conservation of América Tropical
project, focuses on the murals painted by Siqueiros in Los Angeles in 1932 with additional references on materials and techniques for context. It spans the period from 1932, when Siqueiros came to Los Angeles, to 2012, when the conservation, protection and interpretation of the mural,
América Tropical
, was completed by the GCI and the City of Los Angeles.
The bibliography is divided into two sections. The first is comprised of published references and unpublished manuscripts, letters and reports. These range from primary sources written by Siqueiros during and after his stay in Los Angeles, to scholarly articles related to his murals in Los Angeles, as well as unpublished reports directly related to the research and work carried out on América Tropical.


In the second section, a chronology of news coverage from 1932 to 2012 illustrates the story of the mural and the public reaction to it from the day the mural was unveiled, through the 1960s and 1970s when the mural was rediscovered by preservationists and artists of the Chicano mural movement, to the undertaking of the project by the GCI and the City of Los Angeles to conserve, protect, present, and interpret América Tropical, including events surrounding the unveiling of the fully conserved mural, its shelter and viewing platform, and the opening of the América Tropical Interpretive Center.


How To Cite This Work
Greathouse, Valerie, and Leslie Rainer, eds. 2016. David Alfaro Siqueiros: Murals in Los Angeles. 2nd ed. Los Angeles: Getty Conservation Institute. http://hdl.handle.net/10020/gci_pubs/siqueiros_bib_rev


Related Project




Related Symposium




Related Publication