China Principles (1997–2015)
In tandem with the development and application of the China Principles, the GCI has undertook a review and study of the history and traditions of restoration and conservation practice in China. The purpose was to better understand Chinese approaches (past and present) to conserving cultural heritage. Original Chinese-language sources were investigated in the United States and in China to to gain a better understanding of attitudes in China to preservation of its cultural heritage.
This phase of research, which explored the influence of Liang Sicheng on the development of conservation practice in China beginning in the 1930s, was published in 2004.
Article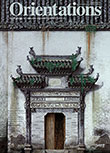 Symposium
To better inform this research and foster dialogue with scholars working in related fields, the GCI co-sponsored a symposium with the Department of Art History and Archaeology and the Society of Fellows in the Humanities of Columbia University, and the Chiang Ching-kuo Foundation in 2004. Entitled The Persistence of Tradition: Monuments and Preservation in Late Imperial and Modern China, the seminar brought together scholars from various disciplines to address the ways in which cultural heritage has been invented, valued, and managed in late imperial, modern, and contemporary China.
Page last updated: August 2019