Mosaic Conservation Technician Training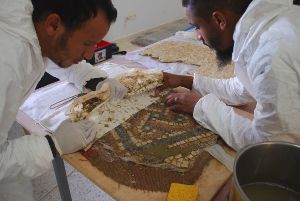 Caring for ancient mosaics lifted from their original archaeological context requires specialized skills.
Specialized Training Courses
Following training courses focused on in situ mosaics, specialized training was provided for technicians on the conservation of mosaics detached and re-laid on site on concrete support panels and on lifted mosaics kept in storage without any support backings.
A North African regional course was held in El Djem, Tunisia in 2011–12 and a course for technicians from Morocco was held in Volubilis, Morocco in 2017–18.
The final module of the course in El Djem was dedicated to the maintenance of mosaics on reinforced concrete panels, while the final module of the course in Volubilis was focused on the long-term conservation of mosaics previously re-laid on concrete by re-laying them on new lime mortar foundations (see video below).
The final module at Volubilis also addressed the conservation of mosaics stored for decades without any support backings by providing them with lime mortar backings and storage on metal shelving structures, using locally available and inexpensive materials.
Upcoming Training
A similar training module for mosaics in storage is planned for technicians from Middle Eastern countries in the storage facility in Sidon, Lebanon in 2021, in collaboration with ICCROM-Sharjeh.