The Digital Print: Contemporary Practice, Identification, and Preservation
July 25–29, 2016
Getty Villa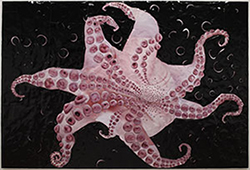 Octopus, 2007, Tim Hawkinson, Inkjet digital foam
collage. © 2007 Tim Hawkinson. Commissioned by JPGM.
The majority of culture heritage institutions have digital prints in their collections and their numbers are growing rapidly. Most of these collections are reported to have noticeable deterioration (abrasion, fading, yellowing, and color bleeding, etc.). Conservators who are called upon to preserve them need guidance in correctly identifying digital prints and their processes and in understanding their preservation needs.
Class Content
The five-day workshop included lectures, demonstrations, identification exercises, and hands-on treatments designed by the instructors to apply and test the different approaches. To reinforce the identification exercises, participants had the opportunity to view digital prints from the collection at the J. Paul Getty Museum by artists such as Tim Hawkinson and Robert Weingarten, among others. Sample prints were provided for identification and treatments. Evaluation of identification techniques, treatment applicability and effectiveness were carried out through group discussions at the end of each day.
The workshop provided participants with the theoretical and practical basis to:
• identify different digital processes;
• recognize and understand the needs of these photographic materials;
• prioritize the conservation needs within their collections;
• communicate with institutional colleagues on collection priorities;
• decide on and perform conservation treatments on these materials if necessary; and
• better understand the craft behind the fine art digital print and learn more about contemporary display mechanisms.
Principal Instructors
Martin Jürgens, Conservator of Photographs, Rijksmuseum
Ryan Boatright, Digital Printmaker, Atelier Boba, Paris
Tram Vo, Project Specialist, Getty Conservation Institute

Page last updated: Januray 2017