Preservation of Photographs and Photograph Collections (2008–2017)
Current Issues in Photograph Conservation
The nature of photography is evolving. Rapid and transformative innovations in photography are both exciting and challenging for conservators. The profession needs to find ways to effectively share current knowledge and research to reach caretakers of these rapidly changing and growing collections.
The Current Issues in Photograph Conservation workshops series was designed primarily for mid-career conservators who work with photographic materials.
Instructors in the series are preeminent experts in the field. Through lectures, discussions, and practical work, they elucidated the various aspects of a given topic throughout each intensive workshop.
Each workshop focused on a topic relating to the contemporary conservation treatment of photographic materials.
Upcoming Workshop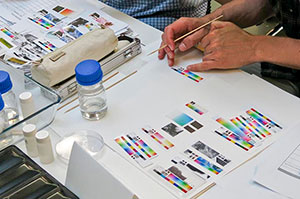 Twentieth-Century Color Photographs: Contemporary Practice, Identification, and Preservation
August 7–11, 2017
Getty Villa
Past Workshop
The Digital Print: Contemporary Practice, Identification, and Preservation
July 25–29, 2016
Getty Villa
Page updated: May 2022