Conservation of América Tropical
Video
The Return of América Tropical
Tells the story of the twenty-year collaborative project to conserve, interpret, and provide public access to the mural.




Symposium
The Siqueiros Legacy: Challenges of Conserving the Artist's Monumental Murals (2012)
This two-day symposium in October 2012 presented different aspects of some of Siqueiros's most important murals.
Watch video
of the symposium.
A
selection of papers
from the symposium is available for download.
GCI Publications
David Alfaro Siqueiros: Murals in Los Angeles
[Bibliography]
Compiled and edited by Valerie Greathouse and Leslie Rainer (PDF, 176pp, 176KB)
This selected bibliography focuses on the murals painted by Siqueiros in Los Angeles in 1932 with additional references on materials and techniques used by Siqueiros, as relevant for context.
Related Collections
David Alfaro Siqueiros Papers in the Getty Research Library
The collection consists almost entirely of manuscripts, some in many drafts, others fragmentary, the bulk of which date from the mid-1930s, when Siqueiros traveled to Los Angeles, New York, Buenos Aires, and Montevideo, returning intermittently to Mexico City.
Ernest A. Long Outdoor Mural Archive
This archive features more than 500 images taken in the 1970s and early 1980s by mural enthusiast Ernest Long documenting nearly 200 public murals in Southern California and beyond. Includes images of works by Kent Twitchell, Leo Limon, Elsa Flores Almarez, and Ed Ruscha.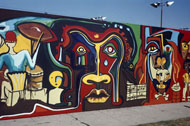 Getty Research Library
For further information on this subject, explore Getty Research Library materials in
Primo Search
.