Conservation of América Tropical (1988–2012)
Related Collections
David Alfaro Siqueiros Papers in the Getty Research Institute, Special Collections
The collection consists almost entirely of manuscripts, some in many drafts, others fragmentary, the bulk of which date from the mid-1930s, when Siqueiros traveled to Los Angeles, New York, Buenos Aires, and Montevideo, returning intermittently to Mexico City.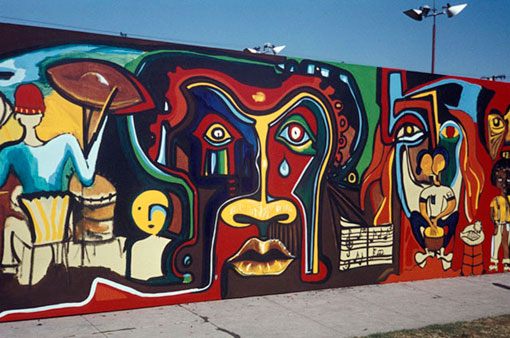 Detail of A&M Records by Roderick Sykes. Photographed July 1976. Art: © Roderick Sykes. Photo: © Ernest A. Long III Trust.
Ernest A. Long Outdoor Mural Archive
This archive features more than 500 images taken in the 1970s and early 1980s by mural enthusiast Ernest Long documenting nearly 200 public murals in Southern California and beyond. Includes images of works by Kent Twitchell, Leo Limon, Elsa Flores Almarez, and Ed Ruscha.
Related Symposium
Mural Painting and Conservation in the Americas (2003)
Related Websites
América Tropical Interpretive Center
El Pueblo de Los Angeles Historical Monument
Getty Research Library
For further information on this subject, explore Getty Research Library materials in Library Catalog.
Page updated: August 2019