Recent Advances in Characterizing Asian Lacquer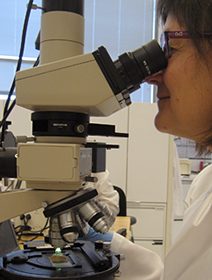 Centre de Recherche et de Restauration des Musées de France
July 7–11 , 2014

The Getty Conservation Institute (GCI) and the Centre de Recherche et de Restauration des Musées de France (C2RMF) are pleased to announce the 2014 workshop to be hosted by C2RMF at the Louvre, July 7–11, 2014.

The five-day workshop will explore newly developed analytical procedures for acquiring detailed compositional information about Asian lacquers, their additives and their European substitutes. During the workshop, conservators and scientists will work together in research teams to study and discuss historic lacquer samples. This is a unique opportunity for collaboration and discussion of topics such as the compositional variation in lacquered objects made in different countries and time periods, the relevance of analytical research to the conservation and interpretation, and the identification of research priorities and potential collaborations.


Workshop Details
Objectives include:
Demonstrate new analytical protocols and the level of information that can be gathered using these methods
Provide participants with the tools necessary to use these methods, such as a marker compound database and custom data evaluation tools
Highlight the benefits that collaboration between scientists and conservators can provide
Identify pressing analytical and conservation issues in the field and priorities for future research
The workshop provides instruction in the following low-tech and high-tech procedures with the aim of identifying traditional and non-traditional materials in Asian lacquers:
Visible and fluorescent light microscopic examination of chemically-stained lacquer cross-sections which can provide visual, layer-specific information for a number of organic materials.
Precision sample collection of discrete lacquer layers which permits layer-specific compositional information to be obtained.
Pyrolysis - gas chromatography/mass spectrometry with thermally-assisted hydrolysis and methylation (TMAH-Py-GC/MS); a versatile method with excellent limits of detection.
A systematic protocol for data analysis and interpretation based on customized software tools and a marker compound database developed at the GCI which permits detection of a broad range of compounds even when present at trace levels.
The concepts taught in the workshop may also be applied to the study of materials other than lacquer.
Eligibility
Applicants should be conservators or conservation scientists. Scientists should have an established record of using Py-GC/MS. Familiarity with associated quantitative analysis software is preferred. Experience in lacquer analysis is not required, although priority will be given to those with current or future projects involving the analysis of Asian lacquer. Conservators should have experience treating Asian lacquer and be familiar with its properties and production.
As part of the application process, each conservator will be asked to propose sample material from a specific lacquered object for potential use in the workshop, which must meet the following criteria:
object should be of significance within its collection and considered important from the historical and/or technological point of view
owner of the object has given permission to remove a sample of approximately 2x2 mm from the object for destructive analysis
participant has permission to present and discuss analytical results acquired during the workshop
A limited number of proposed samples will be accepted for study in the workshop, and conservators will be responsible for preparing these samples in advance of the workshop. Specific instructions for sampling and documentation of sample will be provided to successful candidates.
Details
Scientists and conservators work in research teams of two during the workshop. Priority will be given to proposed partnerships that include one scientist and one conservator. Ideally, partners will be committed to future collaboration. Proposed partnerships are encouraged but not required to apply. Workshop application includes a place to identify a potential partner.

Cost of the workshop is US$500 payable within 30 days of acceptance. Participants are responsible for all expenses associated with the workshop, including travel and lodging.
How to Apply
Open the application file
*
and save to your computer using your family (last) name as the file name (example: Smith_Lacquers2014). Send the completed application (and any additional documents) to lacquers@getty.edu with "2014 Application" in the subject line.
APPLICATION FORM
Upon submittal you will receive an immediate auto confirmation followed by a personalized response within one week. Please contact Lacquers@getty.edu if you do not receive a confirmation. Application deadline is
5 April 2014
.
Final selection of applicants will be made according to the eligibility criteria outlined above. For questions about the workshop or the application process, please contact us at lacquers@getty.edu.
Instructors
Michael Schilling: Senior Scientist and head of the Organic Materials Research at the GCI, specializing in GC/MS and thermal analysis techniques.

Arlen Heginbotham: Associate Conservator of Decorative Arts and Sculpture at the J. Paul Getty Museum, specializing in the technical examination of furniture.

Nanke Schellmann: Senior Tutor and Research Scientist at the Academy of Fine Arts, Vienna, specializing in conservation and analysis of furniture and decorative objects and the characterization and treatment of degraded decorative surfaces.


About C2RMF
The Centre de Recherche et de Restauration des Musées de France (C2RMF)
is the national research centre in France responsible for the documentation, conservation and restoration of the artifacts held in the collections of more than 1,200 museums across France. It plays a key role in the study and preservation of cultural heritage in France. It comprises a laboratory, workshops, library, archives and data base records. Scientists, conservators-restorers and curators work at the C2RMF through a multidisciplinary approach to conservation/restoration.
The research department of C2RMF is dedicated to the application of materials science for the analysis of the materials and the techniques of works of art and the evaluation of conservation treatments and is under the supervision of the French Ministry of Culture and associated with the Centre National de la Recherche Scientifique. Housed at the Palais du Louvre in Paris, the research department has a large number of analytical capabilities including SEM, ICP-AES, XRF, XRD, surface microtopography, IBA techniques, mass spectrometry, infrared spectrometry, Raman spectrometry, gas chromatography, TL dating and C14 dating with AMS. The department is also home to the AGLAE (Accélérateur Grand Louvre pour l'Analyse Élémentaire) particle accelerator facilities, dedicated to the study of cultural heritage.
Last updated: January 2014