Preservation of Photographs & Photograph Collections
Advanced Topics in Photograph Conservation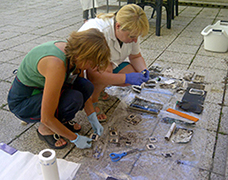 The GCI continues to work to advance the preservation of photographs and build capacity in the region of central, southern and eastern Europe with a series of annual two-week workshops focusing on conservation treatment approaches for photographic materials.

Each workshop in the five-year series focuses on a specific type of damage or deterioration problem, guiding participants towards a better understanding of the nature and mechanisms of the damage and the appropriate treatment strategies to address it. The workshops each feature intensive instruction, guided hands-on work, and discussion with instructors who are leaders in the field of photograph conservation.
This series is a follow-up to
Fundamentals of the Conservation of Photographs
and is intended primarily for conservators in the region stated above. A limited number of spaces may be available to participants from outside the target region.
WORKSHOPS

Conservation Strategies of Humidity and Water-Damaged Photographic Materials
The first workshop in the advanced-level photograph conservation series took place in partnership with the Croatian State Archives in Zagreb in July 2013. It provided fifteen mid-career conservators with the theoretical and practical basis to:

• recognize and understand the needs of photographic materials with humidity and water damage
• prioritize the conservation needs within their collections
• communicate with institutional colleagues on collection priorities
• write a salvage and recovery plan for damaged materials
• know what to do during the recovery process
• decide on and perform conservation treatments on these materials if necessary
Future workshops in this series will be announced in late 2013, along with information for submitting an application.
Last updated: September 2013