Interlibrary Loan
Note: ILL borrowing services are not available to Plaza Readers, Stack Readers, Extended Readers, or volunteers, who should contact their home institutions or public library for this service.


Borrowing Policy for Getty Staff, In-Residence Getty Scholars and Fellows, Getty Interns, and Getty Docents
Getty staff, in-residence Getty scholars and fellows, Getty interns, and Getty docents may use the Research Library's ILL borrowing service to request materials not available within the Research Library.


Requesting Materials
Note: ILL requests can be submitted electronically from here, or through the ILL option found in the Library Catalog.


Patrons should use the Library Catalog before submitting an ILL request to be sure that the Getty does not own the item. Further database searching is not required but Firstsearch/Worldcat search results allow for easy transfer of data into the ILL form by using the "Request via ILL" option.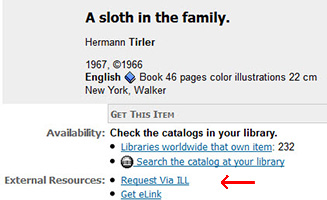 ILL staff members will search for requested materials using online databases and printed catalogs. If an item is not available from a library at the University of California, Los Angeles (UCLA), we will request it from other libraries across the country, and from abroad when necessary.


ILL books usually arrive within a few weeks, while photocopies and items from UCLA typically take less time. Our staff will pursue an ILL book/copy until it has been requested from all lending libraries known to hold it. If you no longer need an item, please cancel the request yourself using the ILL patron Web form or inform ILL staff that you would like to have the request canceled.


Loan Policy
All ILL books and copies are delivered to departmental drop-off/pick-up points once each working day. Notices of delivery to these locations are sent to patrons via e-mail.


Books loaned by UCLA are normally lent for the remainder of the academic quarter. Non-UCLA books are typically lent to the Getty for four weeks, with some exceptions.


Due Dates and Use Restrictions
All ILL books are to be used at the Getty Center. They may not be taken off campus.


A blue paper ILL band is placed on a book before it is sent to the patron. This band should not be removed or transferred, as it includes information pertinent to that book, such as the due date and any use restrictions (e.g., "nonrenewable," "no photocopying," etc.).


A book's due date and any use restrictions are determined by the policies of the lending library.


Renewals
A reminder notice is sent to the patron via email a few days before an item's due date. If you are in need of a renewal, please reply before the book's due date.


A one-time renewal may be requested and is subject to the approval of the lending library. Please be prepared to return a book if the renewal request is denied.


In the case of a book that is still needed beyond the renewal due date, ILL can request another copy of the book from a second lending library, provided that the nonrenewable copy is returned in the interim period.


Overdue Materials
Overdue ILL items jeopardize the Getty's relationship with other libraries upon whom we depend for materials. For this reason, failure to return an ILL book on time will result in the suspension of ILL and/or circulation privileges until the item is returned. In addition, any late fees will be passed on to the borrower.


Recalled Materials
All ILL books are subject to recall by the lending library. Borrowers are required to comply with the rules governing recalled materials.


When a book is recalled by the lending library, a recall notice is sent via e-mail to the borrower. The borrower has until the newly calculated due date to return the book. After this date, an overdue recall notice is sent to the borrower and his/her borrowing rights are suspended, both for Research Library materials and for ILL materials, until the overdue materials are returned or declared lost by the borrower. Any late fees will be passed on to the borrower.


Lost Materials
Replacement costs and associated fees levied by lending institutions for lost ILL materials will be passed on to the borrower. In addition, a $10.00 processing fee will be charged. Borrowing privileges will be restored upon receipt of payment or return of the book.


If the item is found before the lending institution has replaced it in their collection, the replacement cost of the book will generally be refunded to the borrower.


If the lost item is checked out to a Getty department instead of to an individual, the department head will be held responsible for these materials and fines for lost items will be assessed against the department's budget.


Returns
ILL books should be returned to the ILL desk (on the L2 level of the Research Library), the Getty Villa Library, or to the Getty Conservation Institute Information Center. A book drop is available for returns. ILL books should not be returned via interoffice mail.


Patrons should return ILL books or request renewals before leaving for an extended period of time. Although it is not advisable to order books shortly before going away, photocopy requests may be made at any time.



The Getty Research Institute Library encourages other libraries to request materials via ILL. Many items from the Research Library are available to off-campus researchers through ILL arrangements with their home institutions. Individual researchers should contact their library's ILL office to initiate requests for loans from the Research Library.


Libraries wishing to borrow materials via Interlibrary Loan should be advised of the following information:


OCLC Symbol
JPG


Methods We Accept
OCLC (we are a SHARES participant)
ILL Request Form (see link above)


Loan Period
Six weeks


Loan Restrictions
Library use only


Renewals
Will renew for an additional four weeks if there are no holds on the item


Charges
Copy or Loan requests: $20 OCLC IFM or IFLA vouchers
SCELC Libraries & Art Museum Libraries: no charge


Non-circulating Items Not Available through ILL
Special Collections materials
Reference materials
Rare books and manuscripts
Photographs
Fragile materials
Very large items
Works containing loose plates


To Contact Interlibrary Loan
Attn: Interlibrary Loan
The Getty Research Institute
Research Library
1200 Getty Center Drive, Suite 1100
Los Angeles, CA 90049
Email:
interlibraryloan@getty.edu
Tel: (310) 440-7395