Outdoor Sculpture
Documenting Original Painted Surfaces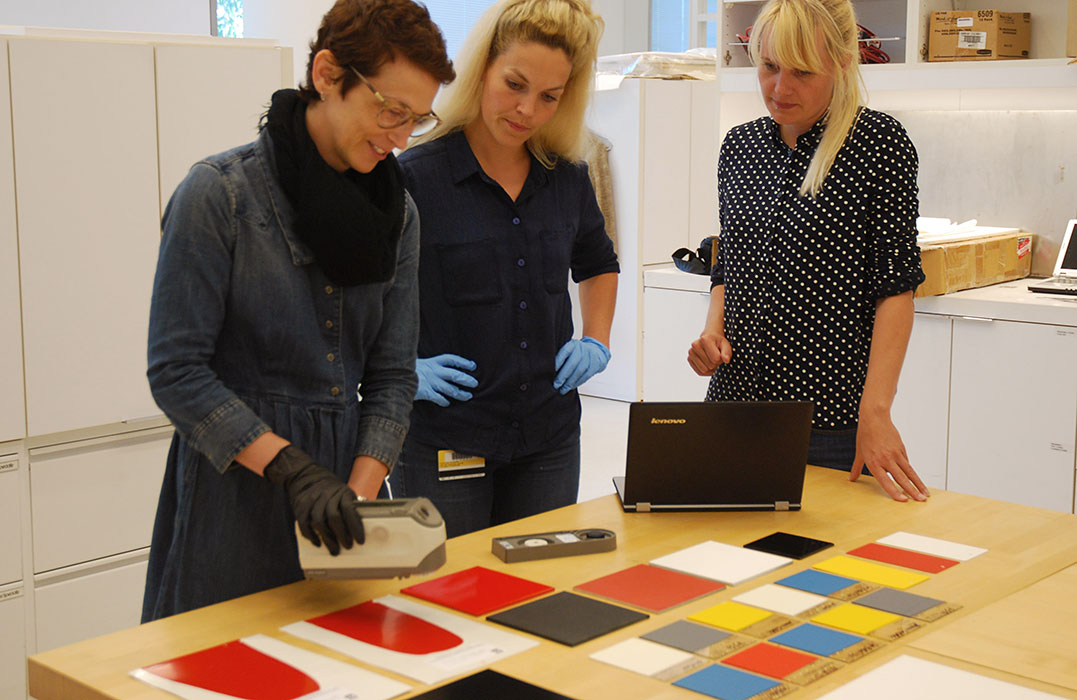 Project team members Catherine Defeyt, Nikki van Basten and Julia Langenbacher performing color measurements on paint swatches. Photo: Rachel Rivenc.
For painted outdoor sculpture, paint is not only an important visual component of the work but also provides protection to the metal substrate, helping to offset corrosion. However, with constant exposure to the elements and little or no barriers to handling by visitors, paint layers can deteriorate. Outdoor sculptures exhibiting patina or with deteriorated paint are not well received by viewers and missing or deteriorated paint layers can lead to corrosion. Therefore it is fairly common for outdoor painted sculpture to be entirely repainted, and also frequently stripped of previous paint layers to ensure the adhesion of the new coats of paints.
Unfortunately stripping and repainting can occur without documentation of the original paint systems used by the artist. While photographs may exist of a work when it was being created or at various points in its history, it has not been typical practice to document or keep samples of the paint materials used on artwork. Color photographs, where they exist, can fade or discolor over time and are not especially helpful for characteristics such as gloss or texture. As a result, sculptures can on occasion be repainted a different color (intentionally or not), a different hue, or a different gloss level than the original.
In order to avoid this, it is of utmost importance to properly document original paint surfaces so that their appearance can be properly replicated. This component of the project aims at defining protocols that can be easily adopted by conservators and shared among the profession—including how to prepare coupons, photograph them, and measure color and gloss in the easiest yet most reproducible ways. The project team will work with experts in the field to define such protocols.
Banner image:
View of the South Fields, Storm King Art Center with works by Mark di Suvero:
Pyramidion
1987/1998;
Beethoven's Quartet
, 2003,
For Chri
s, 1991 lent by the artist and Spacetime C.C., New York.
Mon Père, Mon Père
, 1973-75;
Mother Peace
, 1969-1970; and;
Jambalaya
, 2002-2006, Gift of the Ralph E. Ogden Foundation, Inc., collection of Storm King Art Center, Mountainville, New York. Art: © Mark di Suvero. Photo: Jerry L. Thompson, reproduced courtesy the artist and Storm King Art Center; © Storm King Art Center, Mountainville, New York.
Page updated: January 2015