Conservation of América Tropical
Overview
América Tropical, located at El Pueblo de Los Angeles Historical Monument in downtown Los Angeles, is the only U.S. public mural by famed Mexican artist David Alfaro Siqueiros still in its original location. This project, a collaboration between the GCI and the City of Los Angeles, seeks to conserve, interpret and provide public access to the mural through:
documentation of the mural
scientific study
conservation of the mural
design and construction of a protective shelter and public viewing platform
design and installation of an interpretive center to facilitate public access
The mural site is managed by the City of Los Angeles, with support from the Getty Conservation Institute for monitoring and maintenance of the mural, and from the Amigos de Siqueiros, which is assisting with the management of the América Tropical Interpretive Center.
Funding for this project was achieved through a $8.95 million public-private investment, including a $3.95 million commitment from the Getty Foundation and $5 million from the City of Los Angeles, with additional support from the Los Angeles-based Friends of Heritage Preservation.
Background
David Alfaro Siqueiros (1896–1974), one of the great Mexican artists of the twentieth century, painted América Tropical in 1932 on the second story exterior wall of the Italian Hall, located in the center of El Pueblo de Los Angeles Historical Monument in downtown Los Angeles. Measuring approximately 80-by-18 feet, América Tropical depicts a Mexican Indian, crucified on a double cross beneath an American eagle, with two sharpshooters taking aim at the eagle from a nearby rooftop.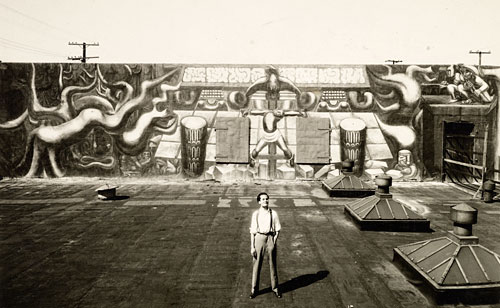 Commissioned for the Plaza Art Center, the mural was controversial from the start and within a year of its completion was partially covered with white paint; within a decade, it was completely painted over. With the rise of the Chicano mural movement in the 1960s, there was renewed interest in the mural, and since then there have been efforts to preserve it.
In 1988 the Getty Conservation Institute entered into a collaborative partnership with El Pueblo de Los Angeles Historical Monument, a department of the City of Los Angeles, to conserve the mural. In the years that followed, the GCI measured environmental conditions, analyzed the paint and plaster, performed the first phase of conservation treatment, and digitally documented the mural's condition.
In 1997 the GCI undertook a thorough condition survey; in 2002 the GCI stabilized the mural and, with the help of the preparations department of the J. Paul Getty Museum, installed a temporary protection over it.
The GCI and the City of Los Angeles completed construction of a protective canopy shelter, viewing platform and interpretive center. Due to the location of the mural in an historic district, a public approval process was necessary for the design of these elements.
The mural reopened to the public in October 2012, eighty years after it was first unveiled. The reopening of the mural marked the culmination of years of effort to showcase América Tropical.
Project Goals
To carry out final conservation treatment of the mural and to monitor and maintain it for ten years
To construct a shelter that will ensure protection of the mural in the future
To make the mural accessible to visitors by constructing a viewing platform and interpretive center that places the mural in its historical and artistic context
Last updated: August 2012