International Course on Stone Conservation (2008–2015)
ICCROM, Getty, and the Non-Catholic Cemetery in Rome partnered for four instances (2009, 2011, 2013, and 2015) in Rome of this three-month-long course.
The International Course on Stone Conservation seeks to offer an accessible and intensive format in which to learn theoretical and practical methodologies for stone conservation. It provides a constructive and intimate forum for international professionals to exchange ideas about conservation practices and challenges in their home countries.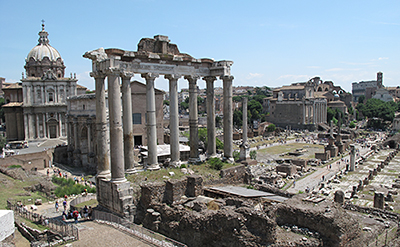 View of the Forum
The 19th International Course on Stone Conservation was held at ICCROM in Rome, April 15–July 3, 2015 and co-organized by ICCROM in cooperation with the Non-Catholic Cemetery in Rome.
This was the fourth time the course was held at ICCROM to provide participants direct access to its laboratories and library. The course took advantage of the distinguished architectural heritage of Rome and its legacy of stone conservation practice.
The 2015 course (SC15) built upon the rich history and experiences of the previous courses and was expanded to address the evolving needs of practicing conservation professionals.
Course Description and Methodology
In content and structure, the course was developed to address the following topics and skills as they pertain to stone conservation: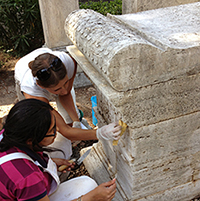 Field work at the Non-Catholic Cemetery
• conservation theory and principles
• stone mineralogical and physical characteristics
• stone as a building material—use and construction
• mechanisms of decay—material and structural
• methods of recording for documentation and analysis
• methods of analytical investigation
• planning and selection of conservation interventions
• maintenance and preventive conservation
• multi-disciplinary teamwork in conservation
• developing and managing a stone conservation project
• regional issues in stone conservation

The course was conducted through pre-course reading, classroom lectures and discussions, group work, participant presentations, laboratory research, fieldwork exercises, and site visits. Throughout the course, an emphasis was placed on applied methodologies and practical applications through problem based learning. Participants were given ample opportunities to test and apply the theories and lessons taught in the readings and in the classroom to actual conservation scenarios. For an overview of the course content, see the SC13 course curriculum (PDF, 12pp., 179KB) and the stone course teaching and learning materials.
Instructors
The instructors were an international group of recognized heritage conservation professionals who represented a diverse array of perspectives, based on their specialized expertise.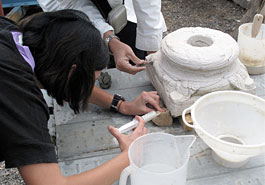 Conservation exercises in Parma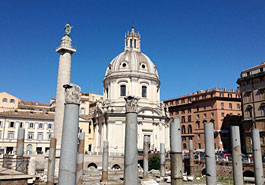 View of Trajan's Forum
Project Partners
ICCROM
Non-Catholic Cemetery in Rome
GCI Team Members
Susan Macdonald, Head, Field Projects
Benjamin Marcus, Project Specialist
Luann Manning, Project Coordinator

Related articles in the GCI newsletter
2013 International Course on Stone Conservation Concludes (Fall 2013)
2011 Stone Course Completed (Fall 2011)
International Course on Stone Conservation Held (Fall 2009)
Other links
Friends of the Non-Catholic Cemetery in Rome Newsletter (Spring 2012)
Getty Voices: The Stones of Rome (June 13, 2013)
Page updated: October 2015