Conservation of Plastics in Museum Collections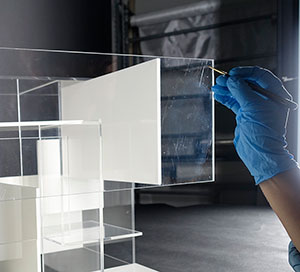 July 16–20, 2018
The Conservation Center, Institute of Fine Arts, New York University
Announcing Conservation of Plastics in Museum Collections 2018, the first in an ongoing series of workshops dedicated to the conservation and preservation of plastics and rubbers in museum collections.
The workshop program draws from the extensive experience of workshop instructors, conservator Anna Laganà and conservation scientist Thea van Oosten and from recent research conducted as part of the GCI's Preservation of Plastics project.
Class Content
The workshop will combine theory and practice through lectures, practical sessions, and group discussions.
Lectures will focus on the history of plastics, their chemical and physical properties, manufacturing processes, degradation phenomena, identification, the latest scientific research and treatment studies, and preventive conservation guidelines. Theory sessions will be integrated with practical sessions including demonstrations, practical exercises and group discussions. Practice will be dedicated to the recognition of plastics, the impact of solvents, cleaning, adhering, consolidation and filling of selected plastics as well as encapsulating rubber objects.
The workshop, focusing on the conservation of three-dimensional objects, is particularly targeted toward objects conservators, however conservators from other disciplines are welcome to attend.
Participants are invited to bring non-accessioned objects or images of objects in order to discuss together the challenges they are encountering with plastics materials and their care.
Objectives
Familiarize participants with various plastics materials produced through history
Improve participants' theoretical background on the conservation of plastics
Improve participants' practical skills on the treatment of plastics objects
Develop critical thinking skills that will help participants to estimate risks, establish suitable approaches into the preservation of plastics objects and design appropriate conservation treatments for their conservation.
Instructors
Anna Laganà, Research specialist, Getty Conservation Institute
Thea van Oosten, Senior conservation scientist, The Netherlands
Facilitator
Stephanie Auffret, Project Specialist, Getty Conservation Institute
Eligibility
Space for this workshop is limited to fourteen mid-career conservators with at least three-to-five-years experience working with two- and three-dimensional artifacts. The workshop, focusing on the conservation of three-dimensional objects, is particularly targeted toward objects conservators, however conservators from other disciplines are welcome to apply. Priority will be given to applicants working with plastics who can demonstrate the applicability of the training to their conservation work as well as a commitment to sharing the knowledge and skills gained during the course with their colleagues and the wider conservation community.
Language
The workshop will be conducted in English.
Workshop Fee
The workshop fee of US$600 includes refreshments during breaks, lunches, a reception, and supplies for hands-on activities. Accepted participants are responsible for travel, lodging and other expenses associated with the workshop.
To Apply
Please complete the application and supporting materials according to the instructions below. Applicants should prepare information in advance and be ready to complete, save, and email the form and additional documents in one sitting.
Step 1: Download the PDF application form to your computer.
Step 2: Rename the PDF file using your last name as the file name (example: Jones_PLAS2018.pdf).
Step 3: Open the application form in Acrobat Reader* only. Do not complete the form from within any browser window (Chrome, Safari, etc.) or in Preview (Mac users), as it will not be fully functional.
Step 4: Complete the form; save it. Email the application from and supporting materials (CV, photographs, etc.), to plastics@getty.edu with "PLAS 2018 Application" in the subject line. Do not use the submit button.
Deadline for submission: March 19, 2018.
Selection
Final selection of applicants will be made according to the eligibility criteria outlined above by April 16, 2018.
If you have questions about, the application process, or require additional information, please contact plastics@getty.edu.
Page updated: January 2018