Szeemann Digital Seminar
In September 2017 the Getty Research Institute launched the Szeemann Digital Seminar in partnership with professors and both post-graduate and graduate students from the
University of California, Los Angeles
, the
University of Chicago
, and the
Academy of Visual Arts, Leipzig
. The project combines online and in-person meetings to link three seminars focused on Swiss curator Harald Szeemann, bringing scholars and students into a global conversation while allowing professors to maintain autonomy.
The students research newly digitized materials from the
Harald Szeemann Archive
and use collaborative tools developed by the Research Institute, including
Getty Scholars' Workspace™
, to explore the relationships between Szeemann's collecting and research interests and to present findings to their peers.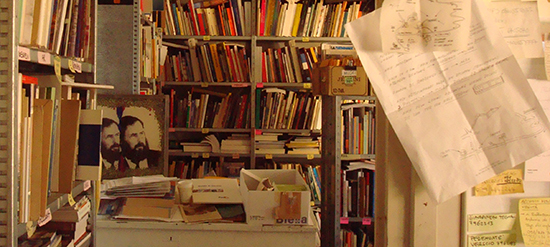 The seminar is a collaboration between the Research Institute's Information Systems and Curatorial departments, along with its Digital Art History (DAH) team, which seeks to study computational approaches to art history. As part of their contribution to the Szeemann Digital Seminar, DAH team members consider the implications of the digital image repository for art-historical research.
For example, what is lost or gained when a researcher consults a collection virtually? When might on-site access be preferable to digital access, or vice versa? How do decisions about processing and imaging archival collections influence related research? By addressing these questions, the seminar aims to provide a critical framework for the integration of art-historical research with technological tools and methods.