Epilogue: Rubens at the Alte Pinakothek

Where is the Düsseldorf collection today?
This photo shows the contemporary display of paintings by Peter Paul Rubens at the Alte Pinakothek museum in Munich. In the 18th century, these paintings were on view in the picture gallery of elector Johann Wilhelm II von der Pfalz in Düsseldorf. Transferred to Munich by inheritance in 1805, the Düsseldorf collection now forms a substantial part of the Alte Pinakothek.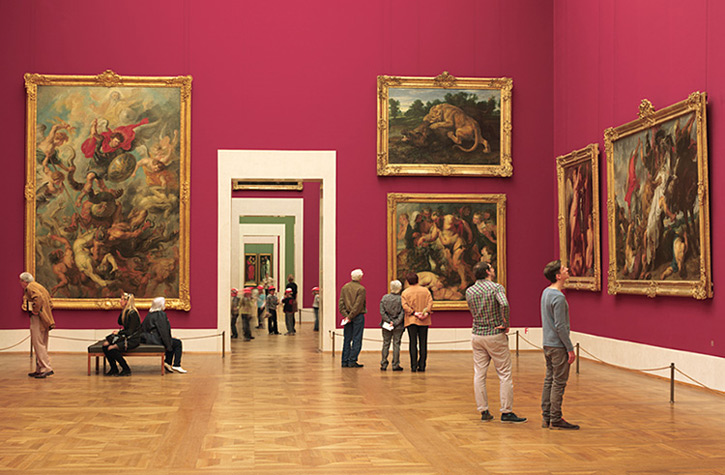 Peter Paul Rubens
Johann Wilhelm II took special pride in his collection of 46 paintings by Peter Paul Rubens (1577–1640). The Rubens room may be considered an evocation of a renewed Catholicism.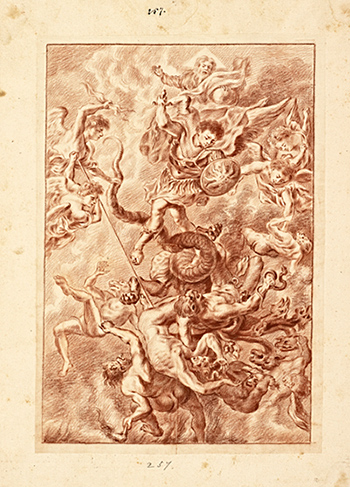 The print above depicts a wall in the Rubens room in the Düsseldorf gallery. The dominating presence of a number of major altarpieces, such as Fall of the Rebel Angels (1621/22, top row, third from the right), demonstrates how the elector set out to represent himself as a defender of the Roman Catholic Church, even within the secular environment of a gallery. The predominance of religious masterpieces is counterbalanced by smaller pictures, such as portraits and mythological scenes; the two themes complement each other, characterizing the unique variety and range of Rubens's abilities.
At left is a drawing after Rubens' painting Fall of the Rebel Angels, made in preparation for the Düsseldorf catalogue. The same painting is now in the collection of the Alte Pinakothek in Munich—see the image at the top of this page.