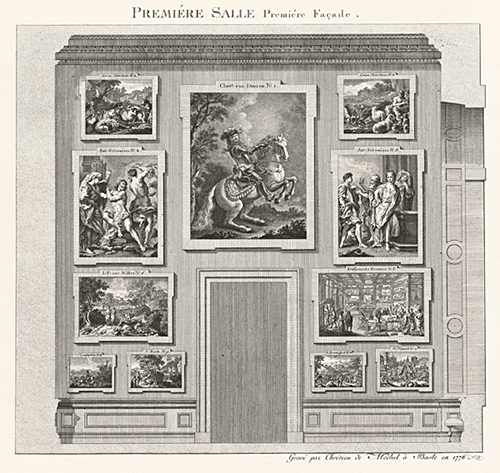 This exhibition traces the development of a new type of picture gallery display and catalogue that emerged in the late 18th century. This new style of presenting works of art marked the transition in the history of the museum from the Baroque to the Enlightenment, and eventually led to the types of displays and catalogues that we see in museums today.

Between 1709 and 1714, Johann Wilhelm II von der Pfalz, a German prince, built one of the earliest European picture galleries next to his palace in Düsseldorf—the first example of housing an art collection in a separate structure adjoining the palace.

Johann Wilhelm's nephew and successor, Carl Theodor, hired Lambert Krahe as director of the gallery in 1756. Krahe then broke with the Baroque tradition of covering an entire wall with paintings (see View of a Room at Pommersfelden Palace). Instead, he displayed paintings in a didactic, symmetrical arrangement ordered by schools, encouraging viewers to draw comparisons (see image at right).

The Düsseldorf catalogue—produced by Nicolas de Pigage, Christian von Mechel, and Jean-Charles Laveaux—represented Krahe's display. Unlike earlier catalogues that only provided inventories, it offered an analysis of each painting. The catalogue both served as a representation of princely magnificence and fostered art-historical education.

Follow the story of the development of the Düsseldorf gallery and its catalogue.